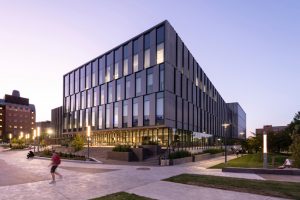 The University of Cincinnati's Carl H. Lindner College of Business in Ohio is now open. The facility was designed by Danish firm Henning Larsen and Cincinnati-based architect KZF Design, with BuroHappold as design engineer.
The campus is known for innovative academic and campus life environments, including large courtyards and atrium, more than 240 faculty office spaces, a 150-seat, two-story lecture hall, a 250-seat auditorium, research labs, open workspaces, exam and tutoring areas, and huddle and breakout rooms. The facility seeks to enrich academic life with daylight and inspiring spaces.
BuroHappold used a suite of analytical tools to inform the design process for daylight evaluation, dynamic thermal, people flow, and energy modeling, says Matthew Herman, a principal in the firm's Chicago office. A fourth tool, computational fluid dynamics (CFD), predicted the movement of air and heat inside the complex building and wind impacts on its exterior.
"Together, these four tools provide institutions like the University of Cincinnati and their architects an unparalleled understanding of how to minimize energy use while ensuring the comfort and enjoyment of students and faculty over the life of the investment," adds Herman.
BuroHappold also collaborated with PEDCO (mechanical, electrical, and plumbing systems) and Woolpert (structures).
The building is hoping to achieve the Leadership in Energy and Environmental Design (LEED) Gold certification.