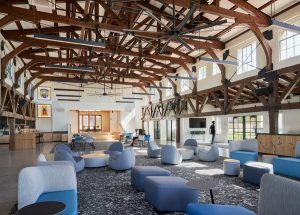 Originally built in 1931 as a gymnasium, a Spanish Colonial Revival style building at a 60-ha (150-acre) boarding school in Claremont, Calif., underwent a transformation, to turn into a community center, by bridging its older design elements with new contemporary additions.
Historic preservation architecture firm Page & Turnbull redesigned the 604-m2 (6500-sf) space, keeping the original wooden beam ceiling and structure alive. The new additions are in the form of a cafe, clusters of gathering spaces, a reception area desk, and a large video wall for projecting movies or gaming contests. The architects salvaged the maple wood gym flooring and reused it to build new furnishings, include it in finishes, and still serve as the flooring in some areas.
"We also relocated and reused some of the non-historic art glass and designed the front of the welcome desk as an homage to the building's roots as a basketball gym," says John D. Lesak, AIA, FAPT, LEED AP, principal-in-charge of Page & Turnbull's Los Angeles office.
This project is one of the latest in Page & Turnbull's 15-year collaboration with the private boarding school, The Webb Schools, which has two schools for grades 9-12 in Claremont, California.