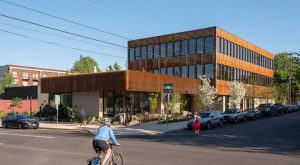 The Nature Conservancy's (TNC's) Oregon headquarters in southeast Portland has gone through a major expansion and renovation. The 40-year-old building has been transformed into a collaborative hub with a focus on sustainable design.
Designed by Lever Architecture, the 1394-m2 (15,000-sf) Oregon Conservation Center features improved efficiencies, modern technologies, and more collaborative areas, including the addition of the Vernier Community Room, a large conference space.
To realize its focus on energy efficiency, conservation, building innovation, and sustainable forestry, the building sourced regionally harvested and locally manufactured materials including Oregon juniper, cross-laminated timber (CLT), cedar, boulders, river rock, and weathering steel. The new Vernier Community Room is one of the first projects to use 100 percent Oregon-fabricated, Forest Stewardship Council (FSC)-certified CLT and glue-laminated (glulam) beams.
Landscape elements such as plantings, boulders, river rock, and timber used for decking were sourced from TNC's regional conservation projects. Additionally, the incorporation of advanced stormwater storage and a 25-kW solar array also adds to urban sustainability while reducing impact and energy dependency.The building is targeting Leadership in Energy and Environmental Design (LEED) Gold certification.