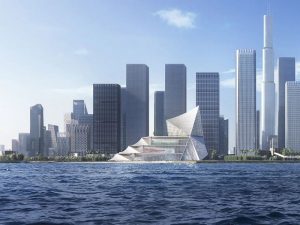 OMA has won a competition to design the International Conference and Exchange Center (IFEC) in Shenzhen, China.
Located at the waterfront of Qianhai, a commercial development district, IFEC combines large-scale conference facilities with a 400-room hotel and public program.
The design for IFEC comprises three distinct volumes. The conference center is shaped into stepped volumes with terraces facing the park. The hotel, towering over the conference center, is a three-dimensional polyhedron, and the third volume contains hotel amenities and public program and is oriented to the center of the business district.
OMA's design team is led by Chris van Duijn with project architect Kellen Huang.