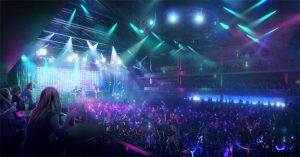 The Office for Metropolitan Architecture (OMA) and  entertainment company Live Nation revealed the first details and November 2021 opening of the 5000-capacity live music venue called 'the Terminal.'
The Terminal is designed with architecture to create a distinctive, one-of-a-kind experience for artists and fans by replicating the intimate feel of a small club. Housed in the city's major downtown development project POST Houston, the Terminal aims to be a key anchor in the transformation of the historic former Barbara Jordan Post Office into a hub for culture, food, shopping, and recreation.
When artists stand on the Terminal's stage, in their line of site, guests will appear to 'wallpaper' the room with virtually no visible blank spaces or gaps as all balcony aisles and walkways have been designed at angles so the artist never sees the aisles—only people.
There will be seated balconies above the general admission space called 'Tribune Tiers' that have been designed and constructed to provide fans with a unique concert-viewing experience. This state-of-the-art design will give guests an intimate viewing experience, despite not being on the floor of the venue. The term Tribune Tiers comes from the term 'tribune' or a "a person who upholds or defends the rights of the people."
Among other flourishes, the venue will combine industrial materials such as fiberglass grating, polycarbonate, and aluminized fabric with an array of ephemeral multi-colored lighting effects to create a machine for spectacle.