Opening the door to parking: High-speed means security
November 4, 2015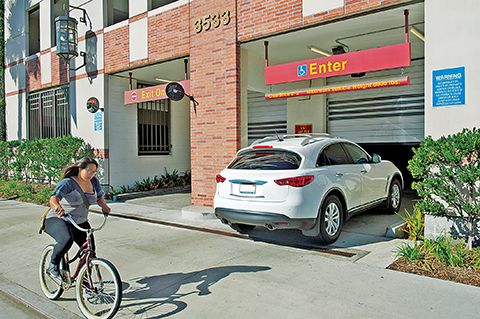 By Michael F. Watkins
Whether at work, at home in a multi-unit building, at the store, or on campus, most drivers need a space to park their vehicle. Calculations vary, but according to one parking expert writing for The New York Times[2], space available nationwide for parking cars is substantial enough to be its own state, occupying an area roughly the size of Delaware and Rhode Island combined.
Another estimate[3] puts the number of parking spaces in this country at 800 million, or three spaces are available for every automobile. According to another estimate[4], parking structures offer roughly 100 million spaces. Regardless of where cars are parked, the places where people leave their vehicles dominate the country's urban/suburban landscape.
These parking structures have become a major design consideration for architects over the past several decades. Although many facilities are freestanding, a large number of parking garages are attached to buildings in urban areas, suburbs, and exurbia. Chicago residents and fans of the 1970s Bob Newhart Show are familiar with the 65-story Bertrand Goldberg-designed Marina City Towers shown in the opening. Clearly visible and integrated into the building's twin cylindrical design are the 19 floors of exposed spiral parking ramp.
The idea behind attaching a parking structure to a building is to provide convenience and security to tenants, employees, and visitors. Though few buildings offer valet parking—an amenity of the Marina City Towers—an increasing number of parking structures are installing high-speed doors to improve convenience and security.
Traditionally, parking structures were seen as minimal standalone buildings without human, aesthetic, or integrative considerations—giving parking a poor public perception and frequently disrupting the existing urban fabric. However, many architects, engineers, and planners now envision and construct far more attractive facilities—integrating structures better with their surroundings and serving the needs of their users.
Their imaginative designs include attention to the vehicle doors that provide building access. Depending on the specific use of the structure, access accommodations range from gates controlled at a manned booth to automated doors activated by coded access, motion detectors, or a payment system.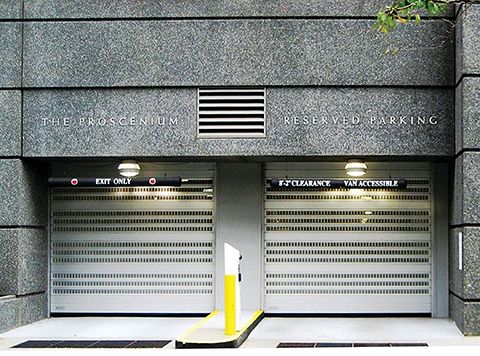 Security considerations
Parking structures can be more conducive for crime than many other locations because they not only have low foot traffic, but also have cars, pillars, and recessed areas to provide hiding places and offer temptation for those with crime on their mind. When asked to rank the top three most important considerations when making a parking decision, the majority of respondents in a recent survey[6] cited were cost (34 percent), security (29 percent), and location (25 percent).
At the parking structure attached to the dormitories at Georgia Tech, the only access is through the vehicle doorways, says Lance Lunsway, the school's director of transportation/parking.
"We had old-style steel parking garage doors that were extremely slow, which wasted time for our students and visitors," he says. "The slow operation of the doors interfered with traffic flow, so we had to leave them open during high-traffic hours."
The consequences of such unsecured doorways can be costly. Liability Consultants (Sudbury, Massachusetts) conducted a study of more than 1000 security lawsuits over a 10-year period. In almost one-third of cases reviewed, the basis of the lawsuit was a murder, rape, robbery, or assault that occurred in a parking lot or garage. The National Crime Victimization Survey [7](NCVS) found one in 10 property crimes and one in 14 violent crimes took place either in parking lots or parking structures.
According to the National Institute of Justice [8](NIJ), parking facilities comprise a large area with relatively low levels of activity—making violent crime more likely to occur there than in other commercial facilities. Many areas in parking lots, such as the space between parked cars and in stairwells, are poorly lit. This kind of environment (and many scenes in TV and movies) cause many people to be wary of walking alone through parking garages.
Despite the parking garage's vulnerabilities, facility owners are fighting back and making their facilities safer places with some basic strategies to protect people, assets, and the building's reputation. These start with keeping the facility well-maintained—a rundown space looks unsafe and gives intruders the impression the building is not monitored.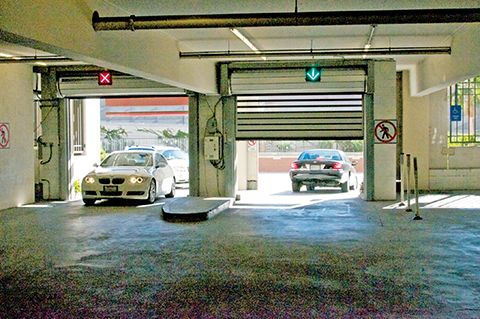 Adequate lighting of all areas of the parking structure and prominently displayed security cameras are major deterrents for criminals. Access control is important, particularly for facilities that do not have manned booths. Many tenant parking locations use proximity cards, identification (ID) badges, and window tags with embedded radio-frequency identification (RFID) chips to control who can enter the building. Allowing the right people in and keeping the wrong people out can be as easy as choosing the appropriate kind of doors.
Even with controlled access, piggybacking can still be a problem, explains the University of Southern California's (USC) chief of campus security, Carey Drayton.
"Piggybacking happens when intruders time the interval between the vehicle passing through the doorway and the door closing, allowing them to slip into the building behind the authorized vehicle," he says.
A slowly operating door adds to the temptation. The longer the door takes to close, the bigger the window of opportunity. Slow doors can be open for many seconds after the authorized vehicle has passed.
High-speed roll-up doors are now taking their place in parking garages to reduce piggybacking and increase security. These doors are commonly deployed in manufacturing and commercial environments because they increase the productivity of forklift traffic while saving energy. This same technology preventing the escape of heating or air-conditioning energy also wards off intruders and prevents unauthorized access.
Depending on the speed of the vehicle, the door can be open for just seconds. Once the car has cleared the doorway, the building is completely secured. Many high-speed solid panel doors have latching mechanisms at the bottom for an extra measure of security.
Tenants and employees are provided with an access card or a security code for the entry keypad. For its parking facility, USC provides tenants with an RFID chip in an adhesive strip attached to the car's rearview mirror. Parking tenants are also given a key card to get back into the building through card-reader-accessible pedestrian doors.
According to Drayton, "The speed of these doors makes people think twice about piggybacking and discourages them from using our parking structures as possible crime sites."
Some models have solid and inpenetrable aluminum slats, yet are still capable of high speeds of 1.5 m (60 in.) per second. GID Development has multi-family apartment projects throughout the country, including the recently opened Sovereign at Regent Square in Houston—offering mixed-use residential, office, retail, and entertainment district with parking for all uses.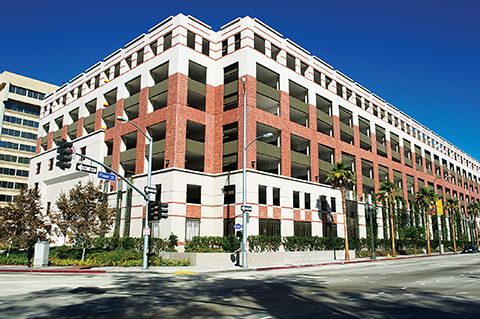 According to Robert Tullis, vice president/director of design for GID Development, the firm's projects often use fabric curtain doors to separate residential parking spaces from those for other uses. Though these doors do not offer the protection that metal doors do in unoccupied places, Tullis attributes the availability of adequate security to a combination of the door's high speed and the abundance of closed-circuit television (CCTV) cameras and staff for providing the needed security.
Jim Zemski, principal with ZCA Residential, agrees.
"Our firm recommends high-speed overhead doors on all of our urban/residential multi-family garages," he explains. "This dictates that a high level of security is provided, which is solved by the rapid speed that prevents piggybacking and unauthorized pedestrians from entering the secure garage."
Providing a better environment
In northern states, a number of attached parking structures provide heating during cold months. At an area of 2.4 x 3 m (8 x 10 ft) or larger, the doorway provides an ample hole in the wall for air infiltration and costly energy loss.
Both parking door speed and design can significantly reduce energy costs. A recent study[11] conducted by the Door and Access Systems Manufacturers Association (DASMA) found high-speed doors accessed often would save more energy than heavily insulated doors operating at slower speeds. By cycling in brief seconds, high-speed doors can significantly reduce the loss of heated air.
Once closed, high-speed doors tightly seal the doorway. Doors with anodized aluminum slats have a rubber membrane that covers the connecting hinges. Along with a rubber weather-seal, this keeps out the elements. This protection combines the seals around the full perimeter of the door, including the door guides, which fully enclose the panel's vertical edges, brush gaskets along the header, and floor-hugging gaskets on the bottom.
Door slats can include acrylic window strips, which let light into the facility to both save lighting energy and provide additional security.
To dissipate vehicle fumes in the parking structure, high-speed doors can have perforated slats to enable buildings to achieve a 75 percent airflow. For facilities with solid-panel high-speed doors, controllers can be connected into the parking structure's carbon monoxide detection system. When high levels of carbon monoxide (CO) are detected, the system will command the controller to open the door while at the same time alerting facility maintenance personnel.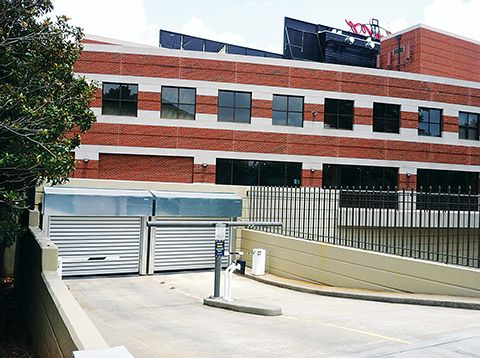 Maintenance
Speed has a significant impact the door's useful life and repair costs. The slow speed of conventional doors invites collisions because impatient drivers often rush through the half-opened doorway and clip the bottom of a door that is not yet fully open.
These accidents often happen when cars are lined up waiting to access the doorway. The second car in line rushes to follow the preceding car, making contact with the descending door. This impulse leads to door damage and damage to the second driver's car.
At 1524 mm (60 in.) per second or faster, a high-speed door is too quick for a vehicle to clip the bottom of the rising door. At facilities where a driver uses a keypad code and a security card for doorway access, the door is generally fully opened before the driver's foot moves from brake pedal to the gas.
Though most high-speed parking garage doors have rigid slats, some facilities are using fabric panel doors. The fabric panel doors used at the GID Sovereign at Regent Square project are easy to repair if they get hit and knocked out of their tracks. Facility maintenance staff can often put the fabric doors back in service by simply opening and closing the door, which rethreads the door into its guides. There is no need to call the door repair company and there are no bent parts to replace.
Most importantly, neither the rigid panel nor the fabric styles of doors can be taken out of service from vehicle collisions. For a busy facility, an unavailable door opening is a significant inconvenience for tenants, customers, and employees. Along with door speed, the relatively lightweight panels and properly sized drives make these doors capable of delivering hundreds of high-speed cycles, month after month, without stress to the system.
Advancements in door control design mean maintenance crews no longer have to go up a ladder to make adjustments in door operation. Newer door controllers have pre-programmed menu options that allow parking garage maintenance crews to easily adjust door operation at floor level to match the specific needs of each location. The controller's self-diagnostic capabilities help keep maintenance time to a minimum.
Advanced door controller technology and variable frequency drives on newer doors generate an energy-efficient speed curve for smooth motion, soft starting, and soft stopping. These controllers continuously monitor all door activity and cycles and have self-diagnostic capabilities to simplify troubleshooting.
Zemski points out high-speed rigid slat door parts wear better compared to traditional overhead doors.
"We had a project where within three years the rivets in the door slats were already wearing out because the door coiled around itself, causing repeated rubbing and door component wear," he explains. "Even though this door was to a reserved area that had limited use each day, within a few years, the rivets were worn down resulting in the slats coming loose and jamming the door."
High-speed overhead doors have a coiled track so as the door coils up, it is not rubbing against itself. This means a longer service and cycle life, in addition to smoother operation. This feature enables painted finishes to enhance the look of the door.
Safety
The door controller technology has led to advancements in safety. Pedestrians should not be using the vehicle doorway to access the garage, but that does not mean they will not. High-speed doors can have a light-emitting diode (LED) illumination system that alerts when the door is about to close. On most doors, a combination of photo eyes and a reversing edge reduce the risk of injury.
However, do these safety features negate the security provided by door's speed? These safety features are relatively unknown and most people will not risk being crushed by a speeding heavy duty door panel.
SPEEDING THINGS UP 
In her book, Pressed for Time (University of Chicago Press, 2014), Judy Wajcman describes the work of researcher John Robinson. Since 1965, Robinson has asked people: "Would you say you always feel rushed, even to do things you have to do, only sometimes feel rushed, or almost never feel rushed?" The number of people reporting they always feel rushed has risen from 25 percent, when the question was first asked, to 50 percent today.
People hate to wait, especially when lines form. For people in a hurry, waiting for a slow garage door to open can seem like an eternity. At the same time, slow-moving doors at workplace parking facilities can translate into decreased employee productivity. High-speed doors convey a respect for the driver's time adding to satisfaction with the facility and the business or institution associated with it.
High-speed metal slat doors and fabric panel doors are replacing slow solid-panel and rolling-grill doors. Though slower versions are still in use because of their lower cost, designers are discovering the advantages of high-performance, high-speed doors.
High-speed doors can open up to five times faster than conventional doors, some models as fast as 2540 mm (100 in.) per second. This can have significant impact on a number of parking structure access issues.
Architectural design
Rather than just planning for slab on top of slab, today's designers strive to provide style to parking structures, especially if parking facilities are part of a mixed use complex.
"Garage owners and developers are definitely paying more attention to the aesthetics of facilities today," says Casey Jones[13], director of parking services at Boise State University in Idaho and chair of the International Parking Institute (IPI). "The well-designed, pleasing-to-look-at facility is becoming the norm."
Architects such as Frank Gehry and the firm Herzog & de Meuron have applied their creative eye to designing structures for cars that do not say 'parking garage.' In planning the Galen Center sports arena at USC, HNTB wanted to match the style of the parking facility to that of the main project. In its view, the high-speed doors specified for the project worked with the project's overall design.
Several high-speed door features make them appropriate for any aesthetic, especially for parking garages that are married into an overall stylish project. The durable powder coating on the high-speed roll-up-door aluminum slats can be applied with almost any color, including a simulated wood look.
The high-speed door design also enables the doors to fit tightly in the wall so as not to dominate the façade with hardware. The doors can require as little as 280 mm (11 in.) for headroom. The door runs along a track that is just a few inches wide.
Many are familiar with the grinding and groaning that accompany conventional door operation. Manufacturers have designed their slat roll-up-doors to have no metal-to-metal contact for whisper quiet operation. That makes these high-speed doors not only pleasing to the eye, but also easy on the ears. According to Tullis, "Our doors are often near residential apartments, so quiet operation is highly valued by us and by the tenants."
Conclusion
Very few people give much thought to the doors as they enter a parking facility—until something goes wrong, either from a security incident or poor door performance. According to Josh Landry with Gables Residential, a developer of high-end multi-unit complexes, "Doors on the parking facility are one of the many items that tenants and owners don't necessarily think about, but they can be part of the overall positive experience for both tenants and customers."
Michael F. Watkins is vice president of marketing at Rytec High Performance Doors, a manufacturer of high-speed doors for industrial, commercial, food and beverage, and controlled-temperature environments. Watkins has consulted to the industrial and durable goods industry and has held management positions in marketing, business development, and new product development. He can be reached by e-mail at mwatkins@rytecdoors.com[14].
Endnotes:
[Image]: http://www.constructionspecifier.com/wp-content/uploads/2015/11/parking_File-4.jpg
The New York Times: http://www.nytimes.com/2012/01/08/arts/design/taking-%20parking-lots-seriously-as-public-spaces.html
estimate: http://www.treehugger.com/cars/the-800-million-parking-spaces-in-america-have-huge-environmental-impact.html
estimate: http://www.uctc.net/access/39/access39_parking.pdf
[Image]: http://www.constructionspecifier.com/wp-content/uploads/2015/11/parking_File-1.jpg
recent survey: http://www.parking.org/media/overview-of-the-us-parking-industry.html
National Crime Victimization Survey : http://www.bjs.gov/index.cfm?ty=tp&tid=44
National Institute of Justice : http://www.ncjrs.gov/pdffiles/cptedpkg.pdf
[Image]: http://www.constructionspecifier.com/wp-content/uploads/2015/11/parking_File2.jpg
[Image]: http://www.constructionspecifier.com/wp-content/uploads/2015/11/parking_File-3.jpg
recent study: http://www.dasma.com/articles/tech/HiSpeedEnergyEfficiency_Sum2014.pdf
[Image]: http://www.constructionspecifier.com/wp-content/uploads/2015/11/parking_File-5.jpg
Casey Jones: http://www.parking.org/media/252186/parking_planning_may-june_2013.pdf
mwatkins@rytecdoors.com: mailto:mwatkins@rytecdoors.com
Source URL: https://www.constructionspecifier.com/opening-the-door-to-parking-high-speed-means-security/
---