by David Leigh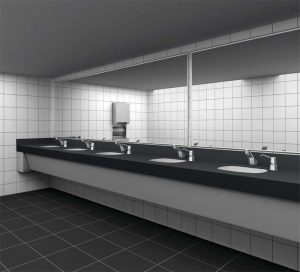 When architects are tasked with envisioning a brand-new building, with the potential to earn a Leadership in Energy and Environmental Design (LEED) certification, it should be designed with sustainability in mind every step of the way, from the cladding materials on the wall panels to its energy-efficient lighting system. However, once the infrastructure is in place, how is the building to be operated in a responsible and sustainable manner? Do the specification decisions support a long-term sustainability and cost-savings plan?
Sustainable operation should factor into the scope of modern restroom planning and design. It is not only friendlier for the environment, but also closely linked to economical operation, providing architects with opportunities to support their clients' long-term business goals. 'Authentic sustainability' requires design professionals to consider operational strategies beyond those typically associated with 'green' buildings.
In addition to LEED certification, many incentives exist for 'green' projects, including the design professional's or the firm's reputation. Crafting a building that is both built with sustainable materials and constructed to operate sustainably for years, can vastly improve client relationships and foster a positive reputation in the industry. Further, architects who want their design intent—aesthetically, experientially, or operationally—to have a lasting impact, will be well-served by materials saving time, resources, and money, thereby becoming less likely to be replaced by the building owner over time.
Benefits of sustainable operation for building owners
The benefits of sustainable buildings are well known. For instance, using responsible materials may protect the environment and sensitive ecological systems. However, depending on product selection, some 'green' buildings also can reduce the costs and resources associated with consumables (i.e. soap and paper towels), energy, water, waste disposal and management, janitorial services, and more.
Operating a sustainable building also can support positive public relations and boost employee or tenant morale, especially if the building is LEED-certified. In fact, studies show, tenant satisfaction scores are higher in buildings achieving LEED or other sustainability benchmarks.
Buildings catering to younger professionals have much to gain from operating sustainably. A study conducted by research firm Lightspeed in 2017 revealed, nearly one in 10 millennials would quit their jobs if they found out their current employer was not operating a sustainable facility. Additionally, nine in 10 millennials believe it is important to work for a sustainable company, compared to 84 percent of Gen Xers and 77 percent of baby boomers.
Sustainable operation: Challenges and solutions
With the benefits of sustainable product specification in mind, it is important to give thoughtful consideration to products saving money, resources, energy, and labor while reducing waste.
Soap dispensers
An inappropriate soap dispensing system can lead to excess plastic packaging waste. Cartridge soap dispensing systems require small, individual, proprietary plastic soap containers (i.e. only the dispenser manufacturer's own soap cartridges are compatible), thus reducing the facility manager's purchasing freedom, in addition to producing plastic packaging waste that eventually ends up in landfills.
These proprietary systems are often refilled from beneath the counter, requiring the removal of vanity support brackets or panels required by the Americans with Disabilities Act (ADA) and resulting in strain on the janitorial staff. Further, cartridge systems tend to empty faster, and due to the small size of the cartridges, janitorial staff must refill them more frequently.
However, some soap dispensers feature thoughtful design that actually simplifies maintenance. Large soap dispensers are non-proprietary systems enabling the use of bulk universal soap because it can be bought in 4-L (1-gal) containers on the open market free of proprietary soap-purchasing contracts. These soap systems also can often be refilled from the top of the dispenser, saving time, reducing labor-intensive replacement, and virtually eliminating the disposal of partially filled cartridges.
Finally, many dispensers utilize foam soap, which is generally more sustainable than the liquid variety. Due to the more extensive hand coverage foam soap offers, patrons tend to use less foam than liquid to achieve the equivalent hand-wash.