by Gary Madaras, PhD, Assoc. AIA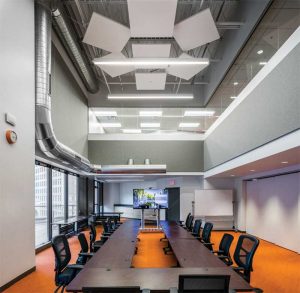 Designing offices for optimized acoustics is an essential part of creating the look, feel, and function of these workspaces. Specifying ceiling materials to achieve the best level of sound absorption is the correct starting point. However, ceilings alone are not truly capable of blocking enough noise between rooms to provide privacy and avoid annoyance. Additional steps need to be taken, either with the walls or with the plenum barriers, for effective sound insulation and to ensure background sound levels are within the desired range.
With more than 90 percent of an organization's operating costs linked to employee efficiency, optimal office acoustics, driven largely by ceiling systems, can have a positive effect on the bottom line.
The Ceilings & Interior Systems Construction Association (CISCA) offers decision-makers an online acoustics return on investment (ROI) calculator. Users input several physical parameters about an office and the calculator shows how varying levels of acoustic treatment will impact the workspace's financial operations.
Employees need spaces encouraging both team cooperation and individual efficiency. Office workers spend 62 percent of the time doing quiet work. Their concentration and comfort are affected directly by noise levels within the surrounding environment. This, in turn, influences their accuracy, efficiency, productivity, and long-term well-being. Even small changes in the acoustic experience may have a significant impact on employers' financial performance and employees' health.
Noise can seriously harm human health by causing short- and long-term problems. Along with productivity and financial performance, acoustics affect people physiologically, socially, and behaviorally. Noise can raise heart rate and blood pressure, as well as negatively impact cognitive functions and motor skills.
In areas where groups of people gather to hear presentations or videoconferences with colleagues, having those on both sides of the conversation understand each other is important. Efficient communication can only be accomplished with low reverberance, lack of echoes, and high speech intelligibility—in other words, sound control with high-performing, sound-absorbing ceilings. These panels also help to reduce unwanted noise and its negative impact on occupants in large, open offices and coworking spaces.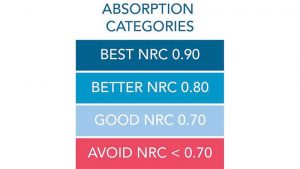 For example, the U.S. General Service Administration's (GSA's) Public Building Service (PBS) P100, Facilities Standards For The Public Buildings Service, regulates the construction of federal office buildings. It requires high-performing acoustic ceilings for open offices, with a minimum noise reduction coefficient (NRC) 0.90 for 100 percent of the ceiling and minimum NRC 0.80 for 50 percent of the ceiling in meeting rooms.
Open office environments usually strive to promote staff collaboration. However, the potential distraction of escalating and annoying noise may unintentionally cause the opposite result where workers prefer the isolation of working at home, wearing personal headphones, or retreating to the few closed-door spaces offering privacy and concentration.
For increased privacy, acoustic standards and guidelines also require or advise enclosing rooms with the appropriate wall constructions and doors to achieve room-to-room confidentiality (In places where this article refers generally to 'standards and guidelines,' the author is referring to the standards and guidelines discussed in this feature, such as the U.S. General Service Administration's [GSA's] Public Building Service [PBS] P100, Facilities Standards For the Public Buildings Service, Leadership in Energy and Environmental Design [LEED], and WELL Building Standard. However, there are also others, such as private corporate brand standards and the International Green Construction Code [IgCC]). Unfortunately, trends in office building design feature more workers occupying less space with no sound barriers between them. More than half of office workers reported they are dissatisfied with their level of 'speech privacy,' making it the leading complaint about office spaces everywhere.
In addition to helping provide a good acoustic experience, office ceiling tiles absorbing sound at high performance levels also meet today's stricter standards.
The U.S. Green Building Council's (USGBC's) Leadership in Energy and Environmental Design (LEED) rating system's Indoor Environmental Quality (IEQ) category includes credits for acoustic performance. It does not set specific requirements for acoustic materials, leaving designers and specifiers to choose the most optimal solutions for creating an optimized acoustic environment.