Optimize background sound level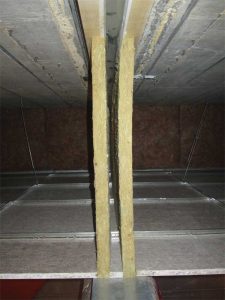 Even if there is optimal acoustic absorption inside a room or space and the walls are designed for the required sound insulation, it is also important to ensure the background sound level falls within an acceptable range. It is a common misconception the quieter it is, the better. In fact, many building systems have become so quiet people are being disturbed by every little whisper, cough, and bump.
In many cases, background sound is not consciously noticed. Favorable background sound or ambient noise typically:
has low to moderate loudness;
is constant and consistent (any changes are very gradual over time and unnoticeable);
is broadband or contains many different pitches across the audible hearing range (tonal noises, such as sirens and alarms, are annoying and disconcerting);
contains no discernible or complex information, such as speech or musical lyrics; and
lacks strong rhythms.
Generally, background sound levels in enclosed rooms should be 30, 35, or 40 dBA, depending on the noise-blocking capacity of the interior partitions. Walls rated STC 40 should be accompanied by 35 to 40 dBA background sound, while STC 50 walls should be accompanied by 30 dBA background sound. If the background sound levels are not expected to be within these ranges, then designed background sound should be added purposefully using water features, electronic sound masking, or music. Designers and specifiers should use one of these options to achieve the optimal background sound level—not too loud or quiet—regardless of what type of systems or sources of sound establish it.
Applying optimized acoustics for Solar Spectrum
Three steps to optimize acoustics—absorption, insulation, and background sound—were applied to an office project in Kansas City, Missouri.
Prominently situated on the fourth floor of City Center Square in the city's downtown, Solar Spectrum's office supports the company's distribution of solar panel systems to customers across the United States. Solar Spectrum's modern, open office design reflects a positive culture of openness, interaction, and energy balanced alongside visual interest, sustainable practices, and employee comfort and productivity.
The 38-year-old building is a cast-in-place concrete tower originally designed by Skidmore, Ownings & Merrill (SOM). Hoefer Wysocki Architecture designed the new offices.
"In the early 1990s, the previous tenant built out the space very simply with tight enclosed offices along the exterior wall and gypsum ceilings," said James Evrard, associate at Hoefer Wysocki and project architect. "Opening up the space was a lot of fun. Returning to the concrete waffle slabs that was first imagined by SOM is the stuff of architectural dreams."
Polished gray concrete floors complement the exposed concrete ceiling and convey a sense of functional industriousness and contemporary style. The firm described the space as "composed around an open central hub overlooking the adjacent four-story atrium. This central hub links social areas and meeting spaces in an open and interactive environment, and provides easy access to work areas."
"As we opened up the space, we also were taking away everything that absorbs sound and showcasing all the reflective surfaces. We needed something more than carpet to manage the acoustics," explained Evrard.
Maintaining the aesthetic of the exposed waffle slab was important to the tenants and design team, so traditional suspended ceiling systems with acoustic tiles were not an option. This drove the selection of free-hanging, sound-absorptive, frameless ceiling islands.
"We knew of various standard acoustic ceiling clouds, but were not satisfied in what we were finding," said Evrard.
From its research, the designer identified a North American manufacturer of acoustic stone wool islands to be hung horizontally over the open office as "the best thing to meet the acoustic design and the aesthetics, and they included recycled content."