Limitations on the daylighting benefits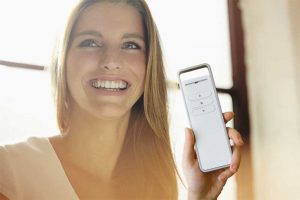 To properly implement daylighting, best practices such as window position and building orientation can only be accomplished via new construction.
Sunlight can heat up a room, thereby making it uncomfortably hot. Many times, this causes the air- conditioning system to turn on to relieve the heat. The rise in temperature can negate the financial gains from daylighting. Too much heat and glare from sunlight can also impact occupant comfort.
"The biggest problem with daylighting design is we still take a traditional building approach to a daylighting project," says Eric Truelove, director
of sustainable design and HVAC engineer for the contracting firm Renschler.
In a typical case, the architect's design offers plenty of glass for light, but the design inherently comes with too much heat. In turn, this requires the engineer to increase the cooling tonnage when the building is complete. Additional costs are incurred when occupants demand blinds to reduce glare. The blinds are drawn much of the day, prompting the use of electric lights. An owner who thought that daylighting was going to save money finds out the hard way the design not only costs more upfront, but also more to operate.
The sun changes position throughout the day and as the year moves along, whereas the windows and other apertures do not. As the direction of light beams changes, light is cast in a moving pattern.
Manual shades and blinds can control the sunlight pouring into the room. However, for a building with thousands of square feet of window area and dozens of apertures, managing window treatments in order to compensate for changing sunlight levels is an enormous challenge and impossible to do manually. In a workplace, constant adjustment of shade/blind position can be a major distraction. The occupants may, therefore, close their shades or blinds and leave them in that position for days.
Windows going from the floor to very high ceilings or skylights make manual blinds and shades unviable for controlling the amount of sunlight coming into a room. For example, one hospital with 13-m (40-ft) high windows in an atrium facing south experienced an enormous greenhouse effect. The sunlight caused intense glare on computer screens and made it difficult to check in patients. It also generated an uncomfortable level of heat for both workers and patients. As a result, the facility had to install tall moveable panels to block the sunlight.
Automated window treatments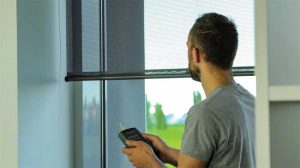 A growing number of functions are being managed by smart building technology, including MTW systems that can have awnings on the outside of the building and blinds and shades on the inside.
For commercial and industrial buildings with windows spanning hundreds of square feet, MWTs are critical for improved working conditions. Unlike most daylighting strategies, MWTs can be used in existing buildings.
First, some MWT basics. A motor, typically within the treatment's roll-up tube, propels the shades, blinds, and awnings. Motors can be battery powered or, for larger-scale applications, wired into the building's electrical system. They can even be solar powered if a building's electrical system uses solar energy, thus adding to the facility's sustainability mission.
Here is how MWTs allow commercial buildings to maximize and automate sunlight and help promote increased productivity in the workplace, while also helping a building attain its green mission.
The right amount of light
To maintain consistent and optimal lighting as the sun's position in the sky changes, manual window treatments must be frequently adjusted. As explained earlier this constant alteration can disrupt a company's workflow.
MWTs can be configured to regulate the amount of sunlight or artificial light that is coming into a workspace. The system can connect to sensors to detect when sunlight intensifies or diminishes. When low sunlight levels cause window treatments to be fully open, interior lights can adjust to the proper level of illumination. They can be programmed to intensify lighting in the deeper parts of a room away from sunlight.
Total interior comfort control while saving energy
As with artificial lighting, the MWT system controls the amount of sunlight entering a room—permitting extra sunlight to warm the room or restricting it to minimize solar heat gain. The smart blinds system can work with the building automation system (BAS) to maintain the room's set point.
When the sun becomes too hot, the MWT system automatically closes, allowing a workspace to remain cooler for longer periods before the air conditioning system kicks in.
In addition to reducing the need for both generated lighting and room heating/cooling, some systems run on DC motors and save up to two-thirds of the operating energy versus standard AC motor alternatives. For facilities with hundreds of automated shade units, the savings can be significant.
Personal preference
There are a number of remote control and wall switch designs, including touchless, to manage the system. Workers can adjust window treatment position to ensure adequate sunlight for illumination while minimizing glare without leaving their desk.
Precision operation
Manually controlled window treatments can be subject to misalignment, permitting cracks between the window frame and covering. Depending on the time of day, this can produce an almost laser-like beam of light. The shade hems on MWT systems can be more precisely aligned to the windows to provide aesthetically pleasing alignment for adjacent shades.
These systems also can detect objects in their path and can reverse operation upon contact. Further, their smooth DC motor operation prolongs the component's life.
An extra measure of fire protection
When a fire breaks out, the detection system will command the MWT to roll up, enabling firefighters to look into the building, assess the situation, and determine who is inside.
Building security
To discourage break-ins during periods of low building occupancy—such as evenings, weekends, or holidays—MWTs for one-story buildings or the first few levels of multistory buildings can be timed to cover the window. Once these are closed, it is possible to program sectors to turn lighting on and off to give the impression the building is occupied. Alternatively, the MWTs can close exterior rolling shutters to prevent entrance through a window or door.
Conclusion
Capturing sunlight through daylighting design creates more comfortable interior spaces, while lowering energy costs. Daylighting design promotes a more productive and engaged workforce by allowing for the illumination of sunlight, which has been proven to have positive effects on the human body and mind.
For deploying MWT systems for a daylighting project, it is advisable to seek expert advice from a window treatments contractor with commercial construction experience. It is important to engage with the MWT systems expert as early in the project as possible, evaluate all options, and consider all benefits.
Scott Blue is COO at the Nice Group USA, the North American branch for Nice S.p.A., an innovator in the home and building automation and home security sector. Blue has managed and owned companies offering access products and led product development. He can be reached at s.blue@niceforyou.com.