The Mississippi building, serving as Waechter Architecture's headquarters in Portland, Oregon, features the use of mass timber in almost every aspect of the structure. The architect claims it to be Oregon's first all-wood project.
Apart from a weathering steel "rain jacket" on the exterior and concrete flooring, the interior surfaces showcase the natural beauty of exposed wood, eliminating the need for additional finishes or fireproofing. This approach fosters a sense of simplicity and unity that distinguishes it from conventional cross laminated timber (CLT) or traditional frame projects, resulting in spaces imbued with warmth, elegance, and durability.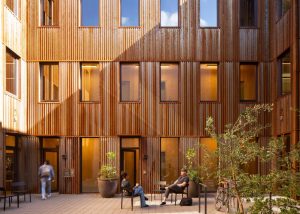 Positioned in the Mississippi Avenue District of Portland, this 888-m2 (9,555-sf) building took more than a decade worth of planning and exploration to come to its present form as a sustainable building systems model and an avenue to foster creative conversations. The building also incorporates all-electric, refrigerant-free, hydronic heating and cooling systems.
In recognition of its innovative approach, Waechter Architecture has secured a grant from the USDA Forest Service Wood Innovations Program. The purpose of this grant is to assess the performance of the building and explore potential applications of its methods in other commercial, institutional, and residential contexts.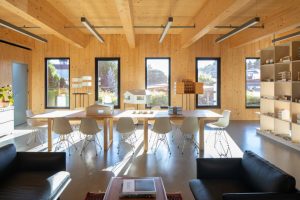 The layout of Mississippi establishes distinct zones for programming and services. The building consists of six equal rooms arranged in three tiers on each side of a shared courtyard. These spacious, uninterrupted volumes are designed to accommodate a wide range of purposes and can be utilized independently or in conjunction with other spaces.
The centerpiece of Mississippi is an open-air courtyard, providing a semi-private internal area that acts as a transitional space, a retreat from the bustling street, and a venue for events, presentations, and casual gatherings.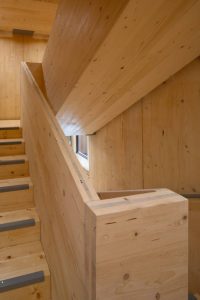 Anticipating change and transformation, the building already caters to a variety of uses. At street level, there is a cafe called Capitola Coffee facing the road, opening onto the courtyard, serving as a shared amenity for both the building's occupants and the larger community. A maker space, bicycle parking, and a service area face the alley and are equipped to host workshops and support diverse forms of creative production. Currently, the second floor houses offices and meeting spaces, while the third floor accommodates a residential unit.
Other project collaborators are KLH Massivholz (USA/Austria), who provided the mass timber fabrication; Mustang Ridge, who handled the mass timber installation; the civil and structural engineer, KPFF; the mechanical, electrical, and plumbing (MEP) engineer, PAE; Code Unlimited, who helped with code/fire protection; construction managers, Owen Gabbert LLC, and Cutwater Design & Build Solutions; and landscape designer, Cistus Nursery.