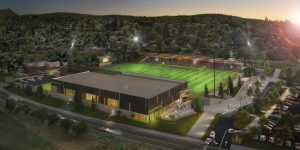 Rising from the ashes of the fire that destroyed the iconic Eugene Civic Stadium in Eugene, Oregon, the new Civic Park, designed by Skylab Architecture  and associate architects Robertson Sherwood Architects, offers a promise for the future.
The project combines the creation of the first permanent courts for the nonprofit, after-school organization KidSports with a new 3716-m2 (40,000-sf) civic stadium and fields.
The structure's design is inspired by the geometric patterns inherent in human movement. Angled, north-facing clerestories flood the six court field house with daylight and tie visually across the turf field to the 2500-seat stadium. Concessions and vendor pavilions on the stadium concourse level will provide spaces for fans to gather and watch games. The Civic Park complex becomes a flexible community event space that honors the past while helping to create the future.
The program marries with the topography of the existing site to create an intimate and contained environment to facilitate sporting events and community happenings.
Working with the ongoing restoration of the headwaters of Amazon Creek, the local ecology will be restored and all stormwater will be directed to a planted detention area that becomes a major site feature. A pocket park along a nearby street is the welcoming point, providing opportunities for structured and unstructured play across the site.
Chambers Construction was the contractor on the project and KPFF provided structural engineering services. Cameron McCarthy was the landscape architecture firm.
The facility is anticipated to open mid-2020.