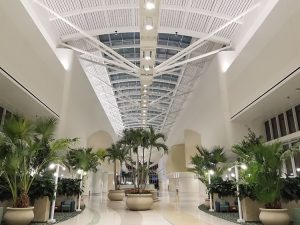 The Orlando International Airport's Intermodal Terminal Facility (ITF) features a 743-m2 (8000-sf) heavy-duty, low-rise segmented barrel vault skylight. A stretch-forming, thermally improving finish was applied to the skylight to meet the airport's aesthetic, sustainability, and high-performance requirements.
Performance-driven design
Spanning 12 m (40.5 ft) wide x 60 m (197.5 ft) long, the skylight was shop fabricated and assembled for onsite unitization and installation. Hundreds of aluminum-framed segments compose the total skylight system.
Each aluminum framing member was finished in a bright silver color using a polyvinylidene fluoride (PVDF) coating system. The two-coat, 70 percent PVDF resin-based finishes meet or exceed the American Architectural Manufacturers Association (AAMA) 2605, Voluntary Specification, Performance Requirements, and Test Procedures for Superior-performing Organic Coatings on Aluminum Extrusions and Panels.
Paints meeting AAMA 2605 comply with rigorous testing including withstanding more than 4000 hours of salt spray and humidity. These coatings must also maintain film integrity, color and gloss retention, and chalk and erosion resistance properties for a minimum of 10 years on the South Florida testing site.
Finished, curved, thermally improved
The liquid paints' volatile organic compounds (VOC) content was destroyed before the finished material arrived at the jobsite. In projects seeking Leadership in Energy and Environmental Design (LEED) certification, choosing durable products with no-VOC finishes can be an important part of the selection and specification process. Painted aluminum extrusions also can be stripped, and re-used or recycled.
Recycled aluminum extrusions was used for the ITF project. Prior to finishing, the extrusions to the barrel vault skylight's required radius was stretch-formed. By maintaining close and consistent tolerances, the stretch-forming process yielded a smooth and even curved surface.
To obtain the optimal finish quality and to keep parts fully warranted, it is best to thermally improve and finish the aluminum framing members after they have been stretch-formed. Installing the thermal barrier in the metal after it has been curved helps minimize stress on the thermal barrier and ensures performance as specified.
Supporting customers and sustainability
To keep travelers comfortable beneath the skylight and the outside Orlando sun, the skylight's thermally improved aluminum framing complements the high-performance insulated glass unit (IGU). The IGU incorporates solar-control, low-emissivity (low-e), laminated glazing, and silk screening to achieve a solar heat gain coefficient of 0.24 and a U-factor of 0.45.
The skylight's thermal performance, recycled aluminum, and durable finishes also support the airport's sustainability management plan, its LEED target, and its goal to reduce energy use by 10 percent.