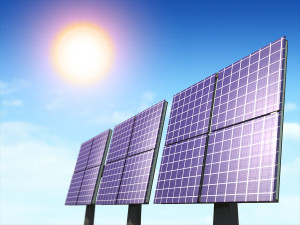 The Department of Energy's (DOE's) Oak Ridge National Laboratory (ORNL) developed new measurement and data analysis techniques that could improve the performance of solar cells.
While solar cells are made from light-harvesting perovskite (an organic-inorganic hybrid), materials have recently eclipsed the 20 percent efficiency mark; researchers believe they could do better if they had a clearer picture of energy flow at the nanometer scale.
The ORNL discovery synchronizes microscopy, ultra-short pulses of laser light and data analytics to extract images with single-pixel precision, providing unprecedented detail.
"If we can see exactly and in real-time what is happening, we can map out the electronic processes in space instead of relying on snapshots gleaned from spatial averages," said one of the method's authors, Benjamin Doughty. "With conventional approaches of studying photovoltaic (PV) materials, we are unable to accurately map out electronic processes and how electrons are getting lost. Those processes can translate into losses in efficiency."
The researchers believe they can make improvements that lead to solar cells that are more efficient and potentially less expensive if they are armed with information about what electrons are doing inside of the material. The experiment consists of optically pumping the thin film sample with a 50 fentosecond (50 millionths of a billionth of a second) laser pulse and then measure changes in light absorption with a second laser pulse in the material. This technique is called femtosecond transient absorption microscopy. The net result is a pixel-by-pixel map of the material being studied.
To read a paper on the experiment, click here. 
For more on solar power, check out previous The Construction Specifier features, such as"Planning Solar-ready Roof: Advantages with standing seam metal assemblies," by Harry Lubitz, and "Solar power: Focusing on quality and long-term reliability," by Sam Tsou.