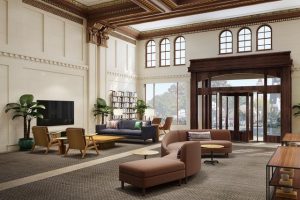 Global architecture and preservation firm Page & Turnbull has completed its reimagining of Hotel Tioga, a landmark structure in Merced, California, now converted to market-rate lifestyle housing.
The adaptive reuse of the 1928 transitional Renaissance-style structure opened recently as The Tioga, an apartment building with retail space on ground level, a fitness center, and room for a future brew pub and café.
For the 6844-m2 (73,670-sf) building project, Page & Turnbull asked its team of architects, planners, architectural historians, and conservators to adapt the building to meet contemporary needs.
"Page & Turnbull is delighted to see this important landmark, one of Merced's largest and most beloved buildings, returned to its former glory and coming to life as a bustling hub of civic life in Merced," said architect Carolyn Kiernat, AIA, principal with Page & Turnbull. "While we are building new housing from the ground up in many places, this classic architectural work, Hotel Tioga, remains a linchpin for Merced's growth on Main Street."
The original hotel cost $250,000 to build in 1928 and is now listed in the National Register of Historic Places.
Merced mayor Mike Murphy has also touted the significance of the $15-million Hotel Tioga project, calling it "transformative" and "another big step forward for Merced" and the city's acclaimed downtown strategy of enhancing nightlife and a diversified center including retail and hospitality.
The Tioga welcomes residents and visitors with a fully restored lobby marked by high ceilings, original plaster detailing, and an expansive skylight that fills the space with sunlight and warmth. Apartments units inside offer a contemporary feel.