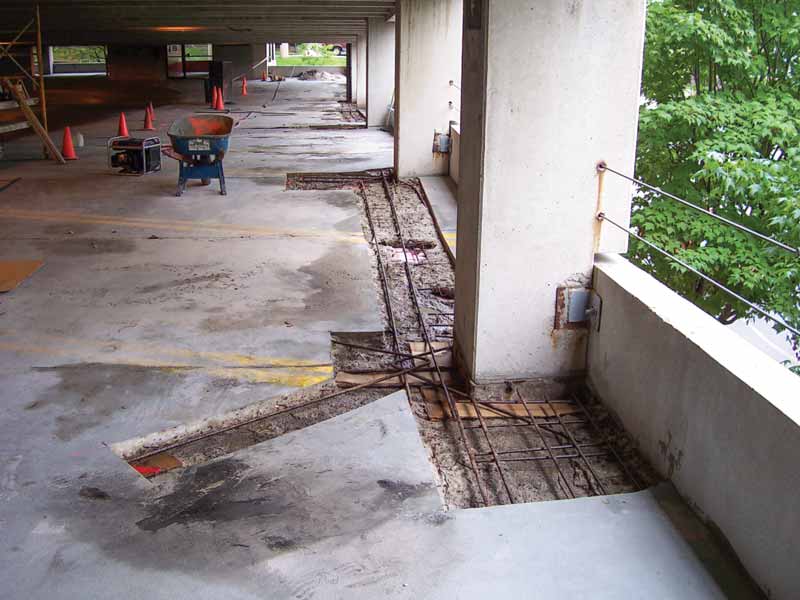 Preparing for harsh winters
Minnesota copes with its harsh winters and slippery roads by using large volumes of deicing salts. These improve driving conditions but contribute heavily to the deterioration of infrastructure. Concrete structures are also subject to multiple freeze-thaw cycles as the weather fluctuates throughout the year. Reinforced concrete bridges and parking structures are prime candidates for the use of migrating corrosion inhibitors to help extend service life in these harsh conditions.
One example of migrating corrosion inhibitor use and its effects on new structures was the design and construction of a parking ramp for Wells Fargo Home Mortgage in Minneapolis. The ramp had to be built within a year, from 2001 to 2002. The design called for six levels with a capacity for 1800 vehicles. Due to time constraints, each deck had to reach 20,684 kPa (3000 psi) strength within 18 to 24 hours of pouring, rather than the standard three days. A superplasticizer was employed to increase the strength and workability of the concrete despite the mix's low water content.
Though a migrating corrosion inhibiting admixture had been specified, a CNI admixture was employed in the first two floors of the structure due to the expectation of freezing temperatures during construction. The CNI-treated concrete experienced shrinkage cracking and had problems with honeycombing as well as with meeting the required 24-hour strengths. The project reverted to the originally-specified liquid migrating corrosion inhibitor. Shrinkage cracking decreased significantly, and minimum required strength was achieved within the required time. The combination of a migrating corrosion inhibitor admixture and superplasticizer enabled the concrete to exhibit excellent finishing properties. The need for overtime was reduced, and the project was completed four weeks ahead of schedule.
Countering corrosive conditions in the Middle East
Conditions in the United Arab Emirates are corrosive in a very different way. Deicing salts are unnecessary, but high water tables and soils with high chloride content increase the risk of corrosion on reinforcing steel employed in below-ground structural components like foundations. Migrating corrosion inhibitors have been employed in many of structures there (e.g. the foundation of the Burj Khalifa in Dubai, the world's tallest building) as part of the strategy for achieving sustainability and longer service life.
In contrast to the Minnesota parking garage that needed protection from harsh winter conditions above ground, a three-story, space-saving underground parking garage project in Abu Dhabi, UAE, needed extra protection from the heavy chloride content in the soil. A migrating corrosion inhibitor was specified for admixing into more than 12,000 m3 (15,695 cy) of concrete laid below ground to provide an extra layer of defense against constant exposure to extremely corrosive soil conditions.
Inhibitors for existing parking garages
Migrating corrosion inhibitors can also be used on aging parking garages to reduce existing corrosion rates.
Migrating corrosion inhibitors applied as liquid surface treatments are said to penetrate through concrete pores by the mechanism of capillary action and vapor diffusion. Combined with a silane sealer, they provide two-in-one water-repellent and corrosion inhibiting activity, thereby simplifying the application process. Another advantage of this dual technology is it initially protects against water and chloride ingress, while also providing corrosion-inhibiting action at the level of the rebar in case cracking allows water and salt ingress. For optimal results, application of a migrating corrosion inhibitor surface treatment is recommended once every decade.
Testing according to the U.S. Bureau of Reclamation (USBR) M-82, "Standard Protocol to Evaluate the Performance of Corrosion Mitigation Technologies in Concrete Repairs" showed how three migrating corrosion inhibitor/sealer combinations were able to mitigate corrosion that had already started. The results indicated these inhibitor/sealer combinations were able to do so from a starting point of high chloride content, demonstrating a good potential for the use of migrating corrosion inhibitor/sealer combinations to mitigate corrosion in concrete repairs. (Get more details from the 2015 paper, "Re: USBR M-82 Evaluation of Surface Treatments, TCG Project # 14104" by Tourney Consulting Group.)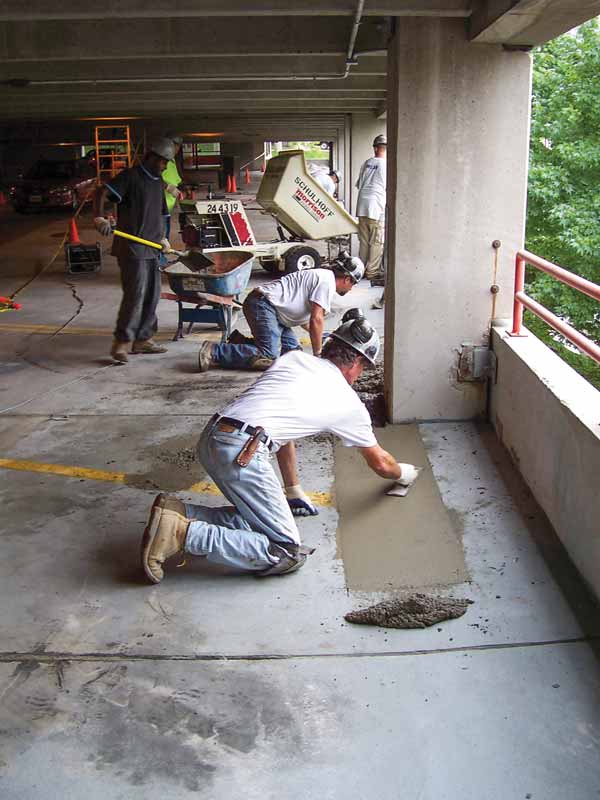 Protecting against ring anode problems
For deeper repairs where concrete spalling is extensive, migrating corrosion inhibitors can be added to the repair mortar for extra protection. This not only enhances the durability of the repair, but also protects against the ring anode effect. A patch of newly laid concrete can cause an electrochemical reaction, spreading corrosion to adjacent concrete because of the difference in corrosion potential on the same piece of rebar. (For more, click here.) Using a migrating corrosion inhibitor in the repair mortar or applying a migrating corrosion inhibitor surface treatment around the repair is expected to discourage this because of the inhibitor's ability to migrate and penetrate into those neighboring areas to form a protective layer on the rebar.
At a parking garage in Cincinnati, Ohio, corrosion problems prompted repairs on a precast slab. Sections of problematic concrete were removed and filled back in with new concrete containing migrating corrosion inhibitors. The inhibitors were intended to mitigate corrosion in the repair areas while also treating against potential ring anode problems from the patch work. A surface treatment of "pure" migrating corrosion inhibitors (no water repellent) was applied for extra protection to areas with heavy reinforcing mats.
Minimizing interruptions
A parking garage in Indianapolis, Indiana, underwent a two-phase maintenance and repair project. The structure was showing wear and needed basic maintenance such as crack injection, expansion joint and paver repair or replacement, and deck sealing. A migrating corrosion inhibitor/water repellant had been used in the first repair phase in 2007 over an area of more than 46,465 m2 (500,000 sf). Since the project provided good results, the owner decided to use a migrating corrosion inhibitor/water repellent in the second phase during 2012, as well. This inhibitor solution was applied with a low-pressure garden sprayer on weekends at a dose of 3.68 m2/L (150 sf/gal). The technology provided minimal interruption, allowing the parking garage to open to traffic during the weekdays.
Conclusion
Migrating corrosion inhibitors are a highly versatile and practical technology for mitigating corrosion on concrete parking garages. Some of their advantages are: they do not negatively affect concrete's physical properties (as admixtures), they are safer than CNI, and they can be easily used on both new and existing structures. Their many benefits make them an excellent strategy for enhancing the service life of parking garages and countless other valuable structures.
Julie Holmquist is content writer at Cortec Corporation where she researches and writes about corrosion-inhibiting technology for concrete, electronics, metalworking, oil and gas, and other industries. She can be reached at jholmquist@cortecvci.com.
Casey Heurung has been a technical service engineer at Cortec Corporation since 2014. His area of concentration is testing and support on the use of migrating corrosion inhibitors for the preservation of reinforced concrete. Heurung holds a bachelor degree in chemistry. He can be reached at cheurung@cortecvci.com.
Jessi Meyer is vice-president of sales at Cortec Corporation. She has more than 18 years of experience in the construction and corrosion industries. Meyer holds six patents in the field of corrosion inhibitors used in the concrete/construction market. She has authored several technical papers through National Association of Corrosion Engineers (NACE) and other technical forums. Additionally, Meyer is an active member of the American Concrete Institute (ACI) and the International Concrete Repair Institute (ICRI). She holds bachelor degrees in chemistry and business from the University of Wisconsin. Meyer can be reached at jmeyer@cortecvci.com.