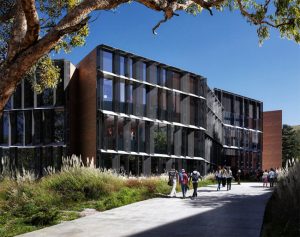 Located at the center of the California Polytechnic State University campus in San Luis Obispo, California, the new William and Linda Frost Center for Research and Innovation aims to be the first interdisciplinary building on campus dedicated to undergraduate students who engage in faculty-mentored research each year and work side-by-side with professors.
Designed by ZGF Architects, the four-story, 9643-m2 (103,800-sf) building features passive design strategies and natural ventilation to create a space that is as healthy as possible for its occupants.
It will bring three colleges together under one roof: the College of Liberal Arts (CLA), the College of Science and Mathematics, and the College of Agriculture, Food, and Environmental Sciences (CAFES) and was designed to support the educational priorities of the student and faculty population, promote interdisciplinary communities, and provide more academic space.
The building houses 19 flexible laboratory and teaching spaces, large general-purpose classrooms, collaboration areas, faculty/staff offices, as well as a recording studio, editing bays, a high-end computer laboratory, and a state-of-the-art teaching kitchen.
The teaching kitchen for CAFES is showcased on the first floor and is visible from the atrium. The program features a sensory laboratory facility in which outside subjects are taken through trials of sampling food and beverage offerings for research feedback. Modularly planned laboratories provide flexibility for any future changes and can be combined to produce large, open laboratories or subdivided to produce small instrument or special-use laboratories. Additionally, an instructional and project space for CLA will offer students a 'big room' in which they can create, perform, test, record, and display their work for passersby along the adjacent hallways and exterior pathways.
Designed to achieve Leadership in Energy and Environmental Design (LEED) Gold, the building incorporates high-performance measures to maximize passive cooling and heating, utilize natural ventilation in the faculty offices, exceed current California Title 24 energy standards by 20 percent, consume 30 percent less potable water, and will include the capacity to accommodate rooftop solar panels. Additionally, 100 percent outside air from air handling units and operable windows in offices allow the building to avoid the recirculation of air that might provide an avenue of airborne exposure–a key consideration in the current COVID-19 crisis.
The center is scheduled for completion in late 2021.