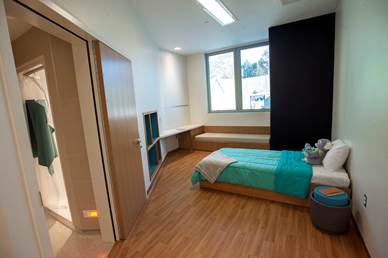 The specification of the design materials for the Virginia Treatment Center for Children (VTCC) required additional attention to safety, including the specification of ergonomic, hygienic flooring for in-patient rooms and the gymnasium. This pediatric mental health center is located within the campus of the Children's Hospital of Richmond at Virginia Commonwealth University.
"When it comes to behavioral health facilities, it's important to reach a balance between comfort and safety in design," said Dr. Alexandria W. Lewis, Ed.D., executive director of the VTCC and team. "We wanted to create an atmosphere for the new facility that was not institutional but rather as home-like as possible."
According to Dr. Lewis, the hospital had to consider low infection risk, durability, and comfort for children who may be barefoot or in socks. Enhanced acoustics also was a concern with a focus on quieting the interior space and reducing stress and anxiety related to noise.
As a solution, the treatment center opted for flooring that featured 5 millimeters of recycled rubber backing fusion-bonded to a heterogeneous vinyl. The combination created a surface that may reduce the risk of injury associated with falls and offered sound control and comfort underfoot.  The cross-linked polyurethane reinforcement provided a low cost, polish-free maintenance regime for the lifetime of the product.
To allow staff to evaluate the functionality of the flooring, a mock-up inpatient room was built and then tested by both the nursing and plant operations staff, with testers reporting it to be aesthetically pleasing and a vast improvement in comfort underfoot over the current floors. The product was then installed in all 32 patient rooms within the new facility.
New heat-welded flooring was also installed in the 346 m² (3,728 sf) VTCC gymnasium, which was designed with special inlays for children to play games like basketball and four square.