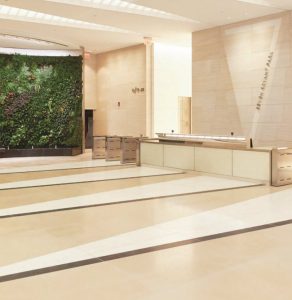 Pei Cobb Freed & Partners has won the 2019 Grande Pinnacle Award from the Natural Stone Institute for their work on 7 Bryant Park, a 30-story office building in New York City.
Located in Midtown Manhattan, the defining element of the design is a pair of mirrored conical forms carved out within the rectangular massing of the tower at one of the corners.
The conical motif is repeated in the ground-floor lobby through the arrangement and detailing of stone elements. Limestone is used for the walls and floors, with accents of marble and granite. Limestone was chosen as the primary stone for its warmth, richness, and light tone, with more richly grained white marble and black granite adding contrast.
The jury was impressed with how the conical wall motifs and the triangular floor panels meet on point. They also admired how the concave curve of the limestone panels reflected the mirrored conical motif within the exterior façade, and said the project exhibits superior stock control in unforgiving lighting conditions, showcasing texture and craftsmanship.
Winners in the 'Commercial Exterior' category are:
Church Street United Methodist Church Expansion (Knoxville, Tennessee);
Grande Arche de la Defense (Paris, France);
Hartford Connecticut Temple (Farmington, Connecticut);
Oklahoma City LDS Temple (Oklahoma City, Oklahoma); and
Elberfeld Mall & Train Station (Wuppertal, Germany).
Winners in the 'Renovation/Restoration' category are:
645 Fifth Avenue, Olympic Tower (New York, New York);
Christ Cathedral (Garden Grove, California);
LondonHouse Hotel (Chicago, Illinois); and
Saint Catherine of Siena Sanctuary Alteration (Trumbull, Connecticut).