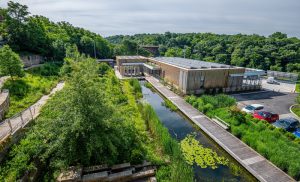 The Phipps Conservatory and Botanical Gardens in Pittsburgh, Pennsylvania, has expanded its sustainable buildings portfolio with a new exhibit staging center (ESC).
Formerly an old public works building, the ESC utilizes green building technology to transform a dilapidated space on a former brownfield into a healthy environment.
"The ESC demonstrates that the greenest, healthiest buildings can be ones that already exist, transforming an old cinderblock building into one of groundbreaking sustainability," said Richard Piacentini, president of Phipps Conservatory and Botanical Gardens. "The building will not have heating, cooling, electricity, or sewer bill and, most importantly, will improve the health and well-being of our maintenance staff who work in and guests who visit here."
ESC's sustainable highlights include:
it is designed to generate all of the energy it uses each year and capture and manage all the stormwater falling onsite;
with geothermal wells buried into the ground, the building is able to efficiently heat and cool the facility with Earth's natural energy;
the roof has photovoltaic (PV) solar panels;
the lagoon adjacent to the ESC is used to store rainwater and replicate the natural treatment processes of marshes and wetlands onsite;
chemical-free sanitary water is recycled and treated through a constructed wetland that uses natural plants and microbes, as well as sand filters and ultraviolet (UV) lights;
a vegetative green screen wall enhances the building's biophilic connection; and
the use of products with the Declare label, along with the avoidance of materials on the Living Building Red List.
ESC worked with FortyEighty Architecture, Common Ground, Iams Consulting, LLC, Studio Phipps, Massaro Corporation, Shepley Bulfinch, Karl Steinmetz Designs, Building Performance Architecture, CJL Engineering, and 7group for the project.