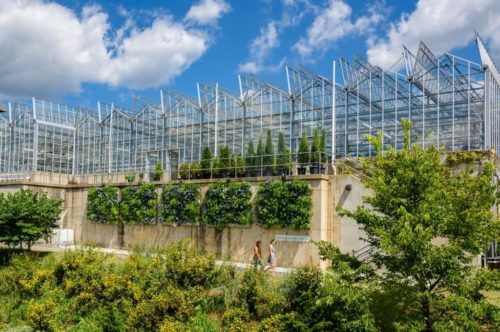 For more than 120 years, Phipps Conservatory and Botanical Gardens has been celebrated as Pittsburgh's green oasis, encouraging visitors to connect with nature and experience the benefits of greener gardening. The conservatory is widely celebrated for its leadership and commitment to sustainability, including environmental conservation, renewable energy, green building design, and healthy living.
In 2013, the conservatory introduced Homegrown, an outreach program dedicated to increasing community access to fresh produce, as well as promoting healthy food choices and improving the overall wellbeing of families. Since its inception, Homegrown has established more than 200 vegetable gardens in urban and underserved areas. However, conventional gardening in cities presents unique difficulties.
"Limited space is a significant challenge for urban gardening," says Michael Bechtel, display horticulturalist at Phipps.
In 2015, the conservatory began testing green walls systems on the south facing wall of its Production Greenhouse Facility.  The 1.2- x 2.2-m (4- x 7.3-ft) panels were each fitted with 24 modular planter boxes to hold herbs and vegetables. The conservatory tested a few designs, ultimately preferring deep planters with a high volume of soil and sophisticated irrigation components.
"With our green walls, we have the opportunity to study, evaluate, and learn about growing edibles on space-efficient vertical gardens," says Bechtel.
Phipps offers a variety of adult and youth programs, classes, and events to educate visitors about the benefits of greener gardening, raised-bed vegetable gardening techniques, local food production, and healthy eating. The conservatory found that vertical gardens offer a sustainable solution to space issues associated with urban planting. In the spring, Phipps harvested beets, carrots, collard greens, kale, and kohlrabi. Summer plantings include basil, rosemary, thyme, celery root, and peppers.
"This forward-thinking approach enables Phipps to offer education and assistance to homeowners, schools, and community organizations on planning, installing, and maintaining their own green walls so that they can benefit from fresh produce," says Bechtel.