Perforated copper screen adds movement to Memphis ballet studio
by Samantha Ashenhurst | July 6, 2018 12:34 pm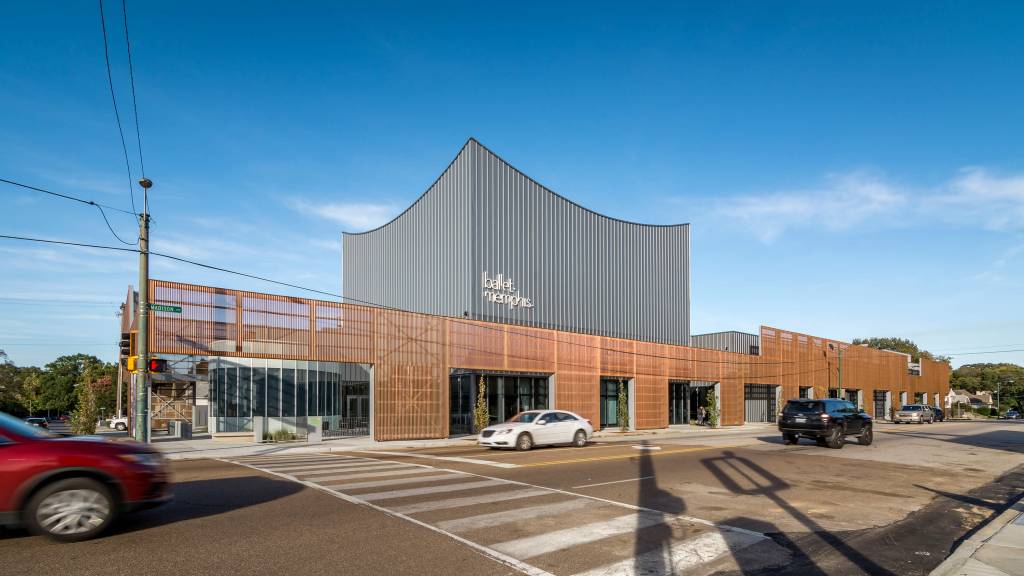 After years of operating from a building in the suburbs, Ballet Memphis had outgrown the space and opted to relocate to a new build in the city's entertainment district. At 4088 m2 (44,000 sf), the current facility more than doubles the ballet company's previous location.
Designed by Memphis-based architecture firm Archimania[2], the building's exterior is intended to engage the public in movement, culture, and connection to the community. The facility houses rehearsal space for the professional ballet company, as well as a large dance school for children, community classrooms, and administrative space.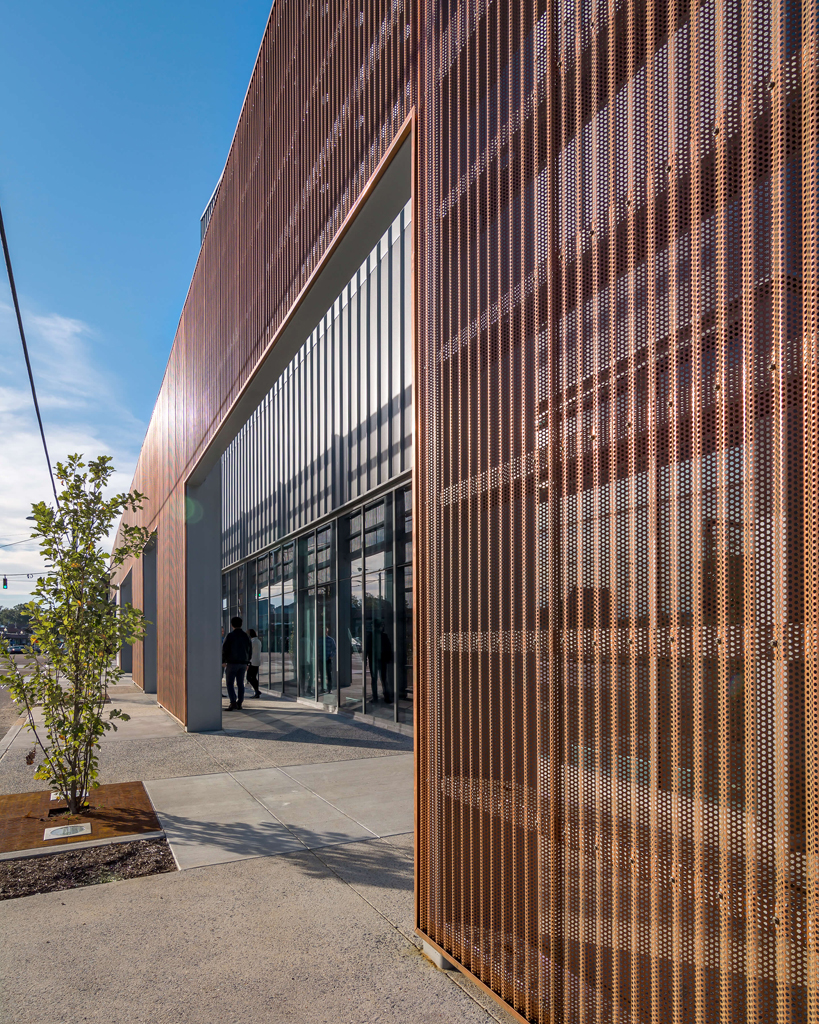 Composed of layers of glass and volumes of contrasting metal, the building's façade emulates a music box. The envelope is comprised of more than 1858 m2 (20,000 sf) of corrugated copper panels, half of which are perforated. The exterior also includes 2137 m2 (23,000 sf) of aluminum standing seam panels, ranging between 12.5 and 15.5 m (41 and 51 ft) in length, which were installed vertically to function as wall panels behind and above the copper corrugated panels.
"We wanted to make the project dynamic and energized," said Todd Walker, principal at Archimania. "The copper screen looks more solid during the day and perforated at night when lights are on behind it. Plus, the varying angles of the sun make the copper ever-changing, and the natural patina process will change it further over time as well."
The building also features a 2.1-m (7-ft) walkway space between the copper screen and studio windows intended to encourage pedestrians to view and engage with the activities within.
"The perforated copper screen sits at the historic street edge—enhancing the urban experience within the entertainment district—while complying with city codes and setbacks," said Walker. "We settled on the idea of a street-side screen early in the process, and the use of copper related well to the many older homes in the district that have copper elements. In this case, copper is not only a natural material but a historic material used in a modern way."
Endnotes:
[Image]: https://www.constructionspecifier.com/wp-content/uploads/2018/07/01_Ballet-Memphis-34.jpg
Archimania: http://www.archimania.com/
[Image]: https://www.constructionspecifier.com/wp-content/uploads/2018/07/02_resize.jpg
Source URL: https://www.constructionspecifier.com/perforated-copper-screen-adds-movement-to-memphis-ballet-studio/
---