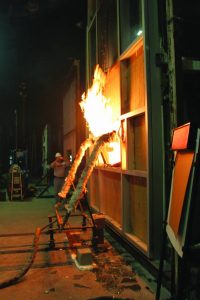 Building owners and occupants often take fire safety for granted. They assume that buildings are constructed with fire safety in mind and significant attention has been paid to building codes. Nevertheless, there exists one particularly critical juncture frequently overlooked in fire-safe design—the void space between an exterior curtain wall and the edge of the floor. This area can be addressed by perimeter fire barrier systems.
Unlike some fire safety elements addressed primarily through design and specification decisions, perimeter fire barrier systems require careful attention to design, specification, and installation to work properly. Consequently, they demand close collaboration by the architect, specifier, and general contractor to ensure each link in the chain is appropriately addressed.
An article in our newest sponsored e-book provides a background on the importance of perimeter fire barrier systems, as well as actionable guidance for architects, specifiers, and general contractors to ensure they deliver the level of fire safety their customers have come to expect. It appears along with a trio of articles from the pages of The Construction Specifier in "Fire Protection: Keeping Buildings Safe" a free, downloadable resource. To get your copy in either pdf or digital edition, visit www.constructionspecifier.com/ebook/owens-corning-fire-protection-keeping-buildings-safe-e-book.