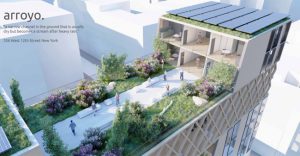 A self-sustaining community embracing the diversity of New Yorkers has won the 2020 Phil Freelon Design Competition, an annual firm-wide event that seeks to elevate Perkins and Will's design culture.
Designed by Vangel Kukov and Hala El Khorazaty, the conceptual project transforms a current industrial building site in Manhattan's West Village, one of New York City's most expensive neighborhoods, into a multi-generational, multi-cultural residential and civic hub that builds and strengthens community. Dubbed 'Arroyo,' a Spanish word meaning a dry channel that becomes a stream after rain, the winning project symbolizes the transformation of a lifeless space into one that flourishes with energy, activity, and human connectivity.
The design challenge: Co-living
This year's challenge addressed the need for affordable housing—a growing humanitarian crisis in cities across the Unites States.
The concept of co-living is being reimagined in the technological age as a solution to address high costs of living. It also accommodates a desire for greater flexibility among temporary and permanent urban residents. To contribute to this emerging industry, 68 design teams from around the firm accepted the challenge to create an affordable co-living concept that incorporates a shared economy, social networking, collaboration, and increased density. Economic inclusion, equity, well-being, and resilience were key design criteria.
Teams could choose from one of three real-life sites: an industrial building in New York City's West Village neighborhood, a vacant asphalt lot in the historic Lodo area in Denver, and an industrial warehouse in downtown Los Angeles's arts district. In addition to addressing unique site-based challenges, the teams also had to consider ways to handle geographically specific environmental challenges, including sea level rise, flooding, and extreme drought. Teams had four days to conceptualize, visualize, and finalize their proposals. Then, a panel of jurors from outside Perkins and Will assessed each submission and selected the winners.
Arroyo took first place because of its practical, yet innovative solution to providing affordable housing for a diverse range of people, jurors said. Despite its density, the design team was able to weave outdoor space throughout the entire building.
Second place winners
Instead of  second- and third-place winners, this year two projects tied for second—"Living Closer," designed by Giancarlo Gastaldin and Gaia Cella, and "Our Backyard," designed by Foad Faizi, Smith Marks, and Allen Pratt.
Other commendable projects
The jury also selected three projects to receive Merit Awards:
Aspen Cooperative, designed by Richard Schunemann, Vaia Vakouli, and Thomas Henderson Schwartz;
Pivot, designed by Mahdiar Ghaffarian, Hannah Gibson, Alyssa Quiring, and Rick Browner; and
The Sponge, designed by Max Hu, Qian Yu, and Zhoufan Chen.