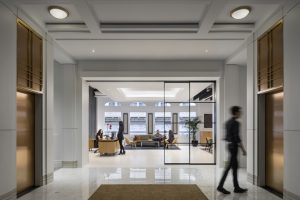 Perkins Eastman and Pfeiffer Partners Architects have announced their pending merger.
Perkins Eastman, a global architecture and design firm with more than 1000 employees, has worked on projects on five continents in 60 countries. Its portfolio reflects expertise in multiple practice areas including healthcare, senior living, large-scale mixed use, higher education, elementary and secondary schools, hospitality, and workplace design as well as planning, urban design, and strategic consulting.
Pfeiffer, based in Los Angeles and New York City, is known for its experience in the arts, libraries, historic preservation, renovations, adaptive reuse, and interior design as well as creative design solutions. This merger provides a platform for collaboration across disciplines and offices, combining the opportunity to draw on the market credibility, resources, and geographic reach Perkins Eastman provides with the design expertise in programming, planning, architecture, and interior design Pfeiffer offers, company officials said in a press release.
"This merger is an important milestone in our long-term plans to build a firm that can offer the breath of design and thought leadership our clients are seeking," said Bradford (Brad) Perkins, FAIA, chairman of Perkins Eastman. "Pfeiffer brings internationally-recognized experience and skills in key areas—all of which complement Perkins Eastman's established capabilities."
"Joining forces with Perkins Eastman will allow Pfeiffer to continue to focus on our core areas while expanding our geographic and typological reach," said William Murray, FAIA, a founding principal of Pfeiffer. "For some time, our principals have discussed how best to grow our practice on both coasts as well as internationally, while retaining our identity and commitment to design excellence. When Brad approached us about a potential merger, the idea very much aligned with our long-term goals."
Pfeiffer, now known as Pfeiffer—a Perkins Eastman studio, will lead key practice areas in the combined firm. While the firms' New York studios will co-locate, their respective studios in Los Angeles will remain as is, while being technologically connected.