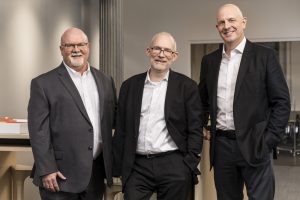 Bradford Perkins, FAIA, and Mary-Jean Eastman, FAIA, co-founders of the global architecture and design firm Perkins Eastman, and J. David Hoglund, FAIA, president of Perkins Eastman, are implementing a leadership change in the firm. Shawn Basler, AIA, Nick Leahy, AIA, and Andrew Adelhardt III, Esq., will lead the 1000-person firm as co-CEOs.
While turning over the day-to-day leadership responsibilities of the organization to the co-CEOs, Perkins, Eastman, and Hoglund will remain full-time in executive leadership roles, supporting the new leadership team and leading strategic initiatives aligning with their individual passions and focus areas.
"Thirty-eight years ago, when we founded the firm, we had a plan for the type of organization we wanted to be. Over the years, many colleagues and friends joined us to help build Perkins Eastman. We owe it to them to manage the orderly transition of our firm to a strong second-generation leadership team that can build on what we started," Perkins said.
"My mission in the next few years is to evolve the design of innovative healthcare environments for our clients worldwide and to support our new leadership in developing a second-generation firm that fosters a culture of excellence in both design and management," added Eastman.
Basler, Leahy, and Adelhardt will develop Perkins Eastman's services and design capabilities on a global scale and continue to serve markets where the firm can make a positive impact on people's lives.
Additionally, Alan Schlossberg, AIA, will become COO, Jason Haim, AIA, will join the executive committee, and Candace Carroll will continue as the CFO.