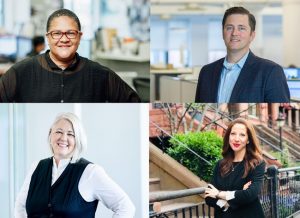 Perkins&Will promoted Jennifer Graham, Matthew Malone, and Brenda Smith to principals of the corporate interiors, science and technology, and health practices, respectively. Additionally, Rachel Rose, firmwide communications director, was promoted to associate principal.
Graham leads by mentoring, learning on behalf of others, and serving as an indispensable conduit of information between her team and clients, the firm said in a press release. The influence of Graham's family and shared values in her native Barbados, are evident in everything she does: from ultimately fulfilling her father's dream of working in architecture and following his dedication to serving others, to epitomizing the resolve and relentless pursuit of knowledge of her Peruvian grandmother, the firm said. Graham's past work includes the Häfele New York showroom, Viacom New York headquarters, and the Nixon Peabody New York office.
As the sector's practice leader, Malone leads the New York studio's science and technology team for research environments and scientific workplace facilities and projects. He brings more than 20 years of planning and design experience to Perkins&Will's science and technology practice in New York. Whether a project is new construction or adaptive reuse, his in-depth knowledge of scientific environments and laboratory real estate ensures clients receive clear, practical guidance, the firm said.
With move than 25 years of design experience combined with seven years as a registered nurse, Smith is a one-of-a-kind health practice leader—and now a principal, Perkins&Will said. She connects the firm's research labs to the daily design and planning work of the New York health practice. She began her career with Perkins&Will at the firm's Atlanta studio in 2008 and moved to New York in 2019.
Smith's award-winning projects, both built and unbuilt, include the CARTI Cancer Center in Little Rock, Arkansas; the Medical University of South Carolina and Pearl Tourville Women's Pavilion (MUSC) in Charleston, South Carolina; King Abdullah Specialist Children's Hospital (KASCH) in Riyadh, Saudi Arabia; and Hamad Medical City Medical Education and Simulation Center in Doha, Qatar.
Based in New York but serving all 25 Perkins&Will studios worldwide, Rose sets the firm's global communication strategy. As the "voice" of the firm's brand, she is responsible for internal and external messaging; business, acquisition, and crisis communications; multimedia promotional campaigns; and media relations.