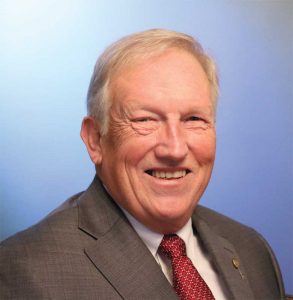 CSI's highest honor, the Distinguished Member, is being awarded to Phillip L. McDade, FCSI, CCS, FASLA, DTM, for his accomplishments within the CSI Community. McDade will be the 54th member to be inducted into this elite group with the first award dating back to 1954.
McDade has more than 38 years of involvement with CSI, with a reputation of encouraging others to get involved, working smarter, and always stressing the importance of mentoring others. He earns this prestigious award by demonstrating tremendous support for CSI and the principles of the organization through his leadership, written and oral communications, and personal interaction with CSI members of all ages. He continually inspires the members to participate at the chapter, region, and institute level and encourages them to use their skills and talents to work toward the betterment of CSI.
McDade believes the construction industry is built on personal relationships. He continues to encourage CSI members to communicate beyond personal preferences and to work with people from every facet of the design and construction industry.
Mark your calendars and join CSI on Thursday, November 5, as they present Phillip McDade with this outstanding achievement during the virtual Honors & Awards Ceremony. Let us raise our (virtual) glasses and congratulate him on this amazing achievement!
As noted in the October issue of The Construction Specifier, other honored guests will also include the new Class of Fellows. They are:
Alan Mitchell Horne Sr., CSI, CCS, CCCA, CDT, AIA, LEED AP, NCARB, USGBC;
Elias S. Saltz, CSI, CDT, CCS;
Lee Ann M. Slattery, CSI, CDT, CCPR, LEED AP;
Robin E. Snyder, Esq, CSI, CDT, CCS; and
William Sundquist, CSI.
Other individual awards include the following.
Distinguished Service Award
"Distinguished service" is defined as notable and significant contributions at the chapter, region, or institute level that have furthered the mission of CSI, its standing in the industry, or its image to the public. This year's winner is Larry Nordin, CSI, CCS, CDT, AIA.
Robert P. Brosseau Award for the Advancement of CSI
This award recognizes all the CSI members who have been recognized by peers as leaders focused on education and the training and mentoring of students and emerging professionals. This year's winners are:
Michael G. Young, FCSI, CCCA;
Susan Bliss, CSI, CCS, CCCA, CDT; and
Jon Lattin, CSI, CDT, CCPR.
Outstanding Contribution Award
This award is presented to a CSI member, chapter, region,
or group that has made commendable contributions furthering the influence of CSI in the local construction industry; or that increases the visibility of CSI in the local construction industry; or that provides a value-added service to the chapter, region, or institute. This year's winners are:
Cory Robbins, CSI; and
Daniel Hargreaves, FCSI, AIA, CDT.
Innovation in Construction Award
This award is presented to an individual or team who, in the opinion of their peers, innovatively developed or discovered new uses for materials, methods, technology, or project delivery systems. Winners are:
Chicago Chapter's Remote Learning Library; and
Conspectus, Inc.
Communication Award
This award is presented to a chapter, region, or organization that has implemented a comprehensive communications program, inclusive of multiple types of communications programs. This year's winners are:
the Memphis Chapter;
Grand Rapids Chapter;
CSINext Chapter;
Chicago Chapter; and
Robert J. Bailey, CSI, CCS, AIA.
For a complete list of 2020 CSI Awards and Honors, visit www.csiresources.org/institute/honorsandawards/awards.