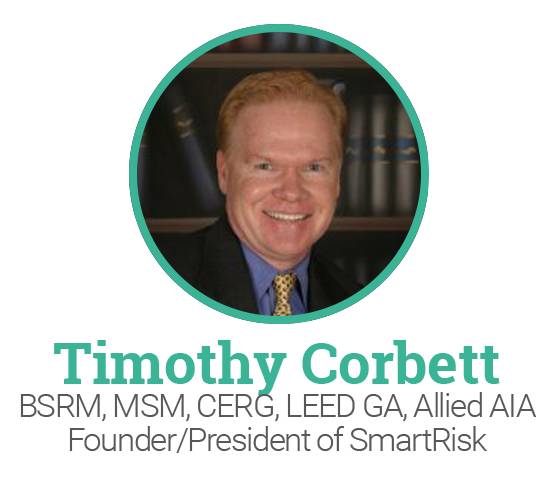 Sharpen your skills in construction risk identification, assessment, mitigation, and monitoring by joining your peers at the Construction Specifications Institute (CSI) Academy in Chicago on April 26 and 27. Learn from experts and share your experiences through interactive online and in-person sessions. This one-and-a-half-day conference features two tracks of focused educational content: Project Conception and Project Execution.
Timothy Corbett, founder and president of SmartRisk, will kick-off the event with his keynote address, "Pitfalls and Problems Facing the AEC Industry," discussing major industry trends that impact his current work developing and implementing risk management programs for some of the largest design and construction firms in North America. Participants will take away a better understanding of how industry trends on risk management are changing the way all members of the project team work together and what major risks might derail future projects.
Additionally, Corbett's address will highlight how he wrote the new risk management chapter of CSI's "Project Delivery Practice Guide (PDPG) 2nd Edition" to best reflect the Institute's established methods of project delivery and communication.
CSI asked Corbett what else Academy attendees can expect to learn from his address.
Why is your presentation so relevant to AEC professionals right now?
The design and construction industry is a risky and litigious business. The risks are ever-changing and driven by market conditions, regulations, and pressures that project owners are placing on design and construction professionals. In my presentation, I will be identifying current trends and methods firms could use for managing and mitigating risk within their firms and projects.
For Academy attendees, how will your expertise expand their working knowledge of the critical steps in construction risk management?
Many design and construction professionals view risk management as limited to contracts and having insurance in place for their organization. I will be expanding the knowledge of attendees by offering a more holistic approach to risk management, exploring how risk management impacts every aspect of their firms' operational practices and, in return, the performance and profitability of their projects.
How will your presentation inform individuals who are implementing a risk management plan?
My presentation will address the essential, key elements every firm needs to implement when developing a risk management plan.
What are your key takeaways for how AEC professionals develop real-world strategies for addressing risk management in their projects—from risk identification and assessment to methods of mitigation and monitoring existing risks?
Key takeaways will include identifying the current risks for design and construction professionals, along with the causes of risk and claims for firms. My presentation will explore strategies applicable by firms in regards to evaluating and assessing risk, along with risk mitigating and management strategies.
To read more about CSI Academy, click here.