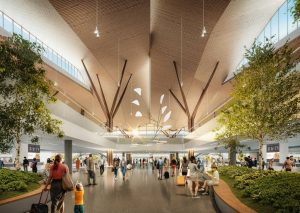 Pittsburgh International Airport (PIT)'s modernization project reached an important milestone in its four-year construction with its placement of locally fabricated steel beams and trees to build the frame of the 75,344-m2 (811,000-sf) terminal.
Built by the city, the $1.4 billion project broke ground last October, with foundational work being complete in most sections of the terminal's footprint. Vertical steel work is underway near the existing X-shaped midfield terminal, which first opened in October 1992.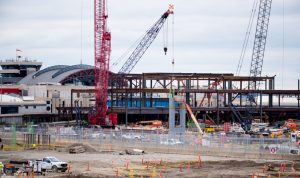 More than 80 percent of the work is performed by local firms using local materials. The 38 trees, which will support the roof and upper floors of the new terminal, are being fabricated near the airport in Ambridge, Beaver County. Some 16,000 tons (16 million kg) of steel is being used in the project as well. The steel work will require 182,000 connecting bolts, 15,240 m (50,000 linear ft), approximately 9.5 miles (15.28 km), of field welding.
"When the new facility opens in 2025, the airport will reflect the beauty of the region and will improve the customer experience for everyone who calls the Pittsburgh region home, by cutting the time to go from curb to gate in half, reducing and stabilizing operating costs, and being a model of sustainability, safety, and security in the 21st century," says Christina Cassotis, CEO of the Allegheny County Airport Authority (ACAA), which operates and manages PIT.
As part of its sustainability plans, the new terminal is on track to be Leadership in Energy and Environmental Design (LEED) Silver certified.
In addition to a new passenger processing terminal, the modernization of PIT will also include a multi-modal complex for ground transportation and parking, with more than 3000 spaces, which is triple the number of existing covered spaces, as well as a new road configuration.
For the modernization, San Francisco-headquartered Gensler, and Omaha-headquartered HDR, in association with Spain-based luis vidal + architects, are responsible for the design and engineering; with contributions from Burohappold, BNP, Thorton Tomasetti, OJB, Ricondo, and F+G. The engineering and consulting company, Michael Baker International, has led an international team of architecture, engineering, construction (AEC) firms for the design of some components of the project as well. Turner Construction, PJ Dick/Trumbull/Lindy Group, and the Hunt Construction Group are responsible for the project's construction management.