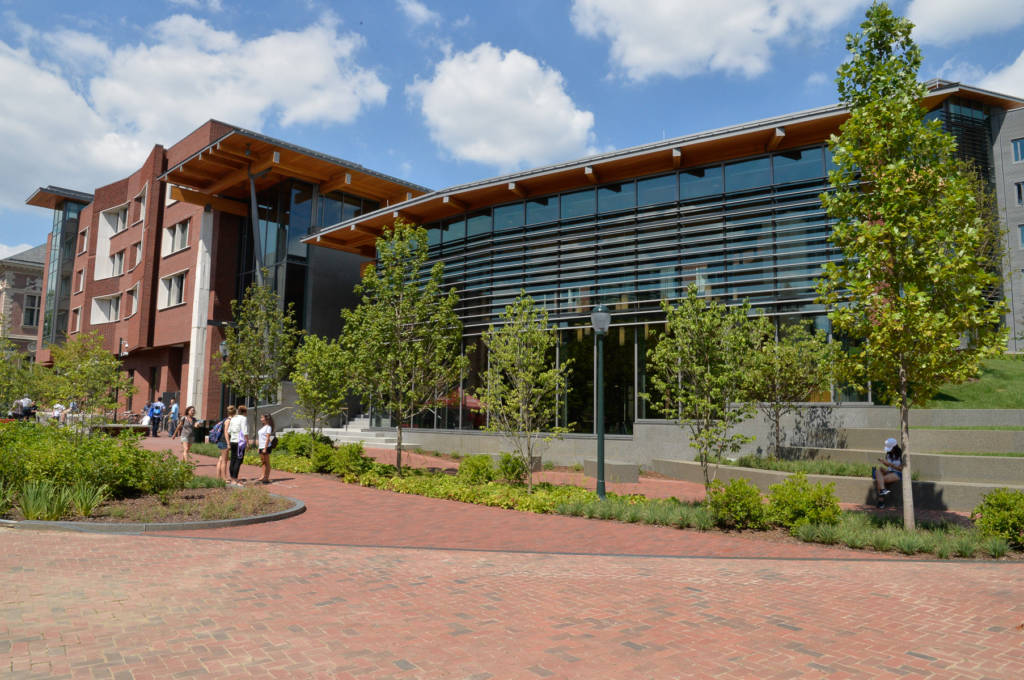 Students living at New College House, the first residence built on the University of Pennsylvania (UPenn) campus since 1972, will benefit not only from improved daylighting and views, but also from enhanced sustainability thanks to the building's curtain wall, window, and sun shades. The $127-million project draws on the historic style of surrounding Philadelphia buildings while also incorporating modern window technology. Construction began in December 2013 and completed in February 2016.
"Penn is a well-established campus with many older buildings. New College house is its newest residential hall that represents a step in a new direction, while honoring the fabric of campus," said Sam McNutt of Bohlin Cywinski Jackson (BCJ), which worked with UPenn to design the residence. "Taking cues from its surroundings, such as Hill House's brick and the law school's limestone, it's heavy on masonry."
The seven-story structure features single rooms organized in suite-style accommodations for three to six people, coming to a total of 350 beds and 18,395 m2 (198,000 sf). Students living there have access to shared spaces as well, including study areas, a media center, seminar rooms, a dining area, and a courtyard.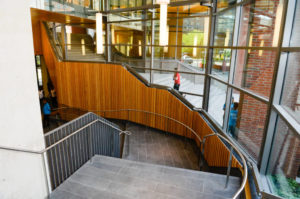 "The private courtyard in the middle of the building is an important feature. The courtyard is private to residents, yet surrounded by glass on all four sides, offering visual connections to the activity in the exterior and interior spaces, including the dining hall," said McNutt. "Here, the students come together as a group to eat and share their experiences. Student life and community connection is represented throughout New College House's design: on the exterior, the scale of the building is balanced with the surrounding structures, while anchored as an inviting campus gateway. On the interior, common areas offer spaces for large group events while smaller, more intimate spaces allow for private study."
Underlying all these features is a unifying goal: sustainability. The project is certified to Silver under the Leadership in Energy and Environmental Design (LEED) program, and makes the most of opportunities to save energy. For instance, the structure incorporates 1205 m (3950 ft) of sun shades, which help reduce air-conditioning demands by limiting solar heat gain as well as managing visible light transmittance (VLT). It also employs vegetated roofing, low-flow plumbing, and efficient lighting to reduce energy costs and usage.
Even the building's framing contributes to these efforts, made of high-recycled-content aluminum and incorporating a polyamide thermal barrier to enhance thermal performance. Frames for the windows, curtain wall, and sun shades were finished using three coats of 70 percent polyvinylidene fluoride (PVDF) resin-based liquid paint. Careful attention was paid to ensuring this finish also adhered to sustainability standards—any volatile organic compounds (VOCs) emitted by the paint are captured with a 100 percent air capture system, then eliminated using a regenerative thermal oxidizer and repurposed as heat energy. Additionally, the finishes for this project meet American Architectural Manufacturers Association (AAMA) 2605, Voluntary Specification, Performance Requirements, and Test Procedures for Superior-performing Organic Coatings on Aluminum Extrusions and Panels.
The curtain wall is also thermally efficient, implementing zero-sightline, operable insert vents to allow for natural ventilation. In total, more than 3625 m2 (39,000 sf) of curtain wall was installed by glazing contractor National Glass and Metal, in frame depths of 120, 160, and 260 mm (4 ¾, 6 ¼, and 10 ¼ in.). The more than 400 windows used on the project include both fixed and operable units.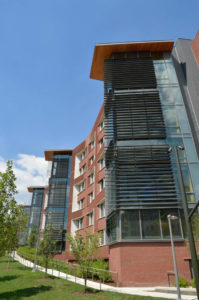 "The building's skin was incredibly complex, so the window systems were one of the last things to go in," said Zach Baron, senior project manager at INTECH Construction, the construction manager on the project. "National Glass & Metal had a six- to eight-person team working onsite for almost a year. It was substantially completed in February 2016. Overall, it went very well working with them and with [the manufacturer]. Now that it's done, I'm happy, the owner's happy, and it looks great."
Baron is not alone in his belief the window system enhanced the building's aesthetics.
"Unlike many of the older buildings, New College House also incorporates much more glass, bringing in natural light and transparency," said McNutt. "Used mainly in the common and circulation areas, the glass helps break up the masonry portions and provides connections between the student community within the building and out to the campus and public."
David Hollenberg, university architect, added to this.
"The building delights on so many levels," he said. "Its marvelous integration of public and private open space, its sophisticated approach to fostering communities at multiple levels, its integration with the urban fabric, its deft use of materials, its craftsmanship, and, in particular, its assured manipulation of scale, which breaks down what is actually an enormous building into multiple integrated parts at human scale."