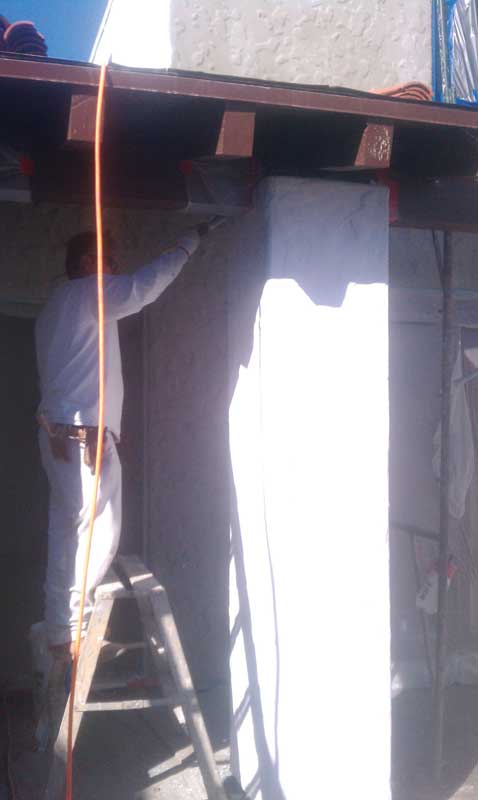 The Hispanic builders and Native American workers were both experienced with paint materials:
Red was made from hematite (red ochre) and cinnabar, white from diatomaceous earth (chalklike fossil rock), and black from charcoal, burned graphite, and asphaltum. To these sources, the Spanish added pigments imported from Mexico… and linseed oil, used as a binder. (See E. Kimbro and J. Costello's book, The California Missions, published in 2009 by the Getty Conservation Institute.)
One Chumash artist was said to have employed "meat of the red tuna, egg whites, and pitch to the pigments. He also used urine, which he collected in clay pots, as a mordant for the paint." (See E. Kimbro and J. Costello's book, The California Missions, published in 2009 by the Getty Conservation Institute.) Sometimes the old way is the best, as with lime plasters; other times, when the old way involves bodily-fluid paint, it is perhaps best left buried.
Restoration of California Missions
As the Missions faded from public interest, they were neglected. The fairly simple maintenance required to preserve adobe and stone buildings was not done; in extreme cases, walls dissolved back into the mud from which they were made. Earthquakes accelerated the deterioration of many buildings.
Concerned citizen groups organized to save and restore the Missions—thankfully, many are now maintained and well-financed. The restoration work has shown what works with these walls and what does not. Bluntly put, portland cement repairs do not work in these instances.
Well-intentioned repair efforts used portland cement in the 1940s, 1950s, and 1960s on walls that had lasted almost two centuries. Portland cement was not only inexpensive and readily available, but it was also stronger than the original materials. Therefore, it was reasonable to believe cement repair products would only strengthen the structures. Unfortunately, when applied to adobe walls (and often over chicken wire), the material's hard, water-repellent surface proved so impermeable that when moisture did occur in the walls, it remained trapped behind the cement veneer, slowly eroding the adobe wall from within.
In other cases, a cement mortar was added to ladrillo constructions, and over time, it pulled away the surface of the tiles. The original lime mortars and plasters were porous and had allowed modest dampness to evaporate. Traditional lime- or earth-based renders (exterior plaster) and finishes protected adobe bricks from direct contact with the weather, providing an easily replaceable 'sacrificial layer.'
Current restoration methods
Today, mission repairs use renders and mortars similar to the original material, allowing the walls to breathe. Consequently, Mission ladrillo arcades are re-mortared and re-stuccoed using soft lime mortars—a product that is also durable and easily maintained. Additionally, the hard feel of cured limestone hides an inner softness that gently coats and supports masonry units without breaking them (as in the case of various portland cement products).
For recent work on the Carmel Mission, a team accessed a damaged wall via an interior passageway and inspected the previous restoration work that was finished to look new, but did not look 'right,' and likely would not perform well.
"I believe my purpose today is to convince the groups working on these amazing structures to repair the structure, but give it its timelessness, using the techniques of old—earth pigments and aged limewater over the slaked lime finish coat," explained restoration specialist, Michael Ruiz.
Previously, Ruiz had worked on an 1870s-era historical home in Orange County to remove topcoats of paint covering up an original mural. He remembers carefully rubbing at the painted plaster to reveal a landscape scene viewed from a hilltop perspective.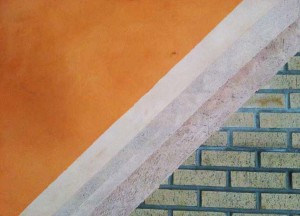 Another Southern California restoration specialist, Thom Susko of The Home Plaster Shop, came across problems with portland cement repairs performed on a job in Old Town San Diego. He restored the building using lime plaster and lime paint. Susko says portland cement was not suited for the historic adobe building because the plaster does not bond to un-stabilized adobe brick. Further, portland cement is less porous and harder than adobe, which is hygroscopic and needs to 'breathe.'
For example, the restoration work at Mission San Juan Capistrano strives to reproduce the original construction of the walls as closely as possible. On the historic landmark's website, it says:
To reinstate the historic character of this area, removal of all inappropriate past repairs, mainly the use of cement, is a key element to the project. Work on the masonry columns includes the removal of hard cement mortar at the joints between the bricks and repointing with a softer, more compatible lime mortar.
Architects and specifiers should select lime-based products to restore, repoint, and re-plaster deteriorated masonry that would initially have been built with lime.
This type of job is commonly bid with known portions' firm price, but with allowance in the budget for possible change orders—a fact of life on these projects. Using 'time and materials' would be more appropriate for especially difficult and unpredictable portions of projects. Thom Susko said the state project he worked on in San Diego did not have a specification—it was a moving target until he wrote the Request for Proposal (RFP) document. He further went on to say the state does have strict requirements, necessitating a bond, insurance, and its prevailing wage.