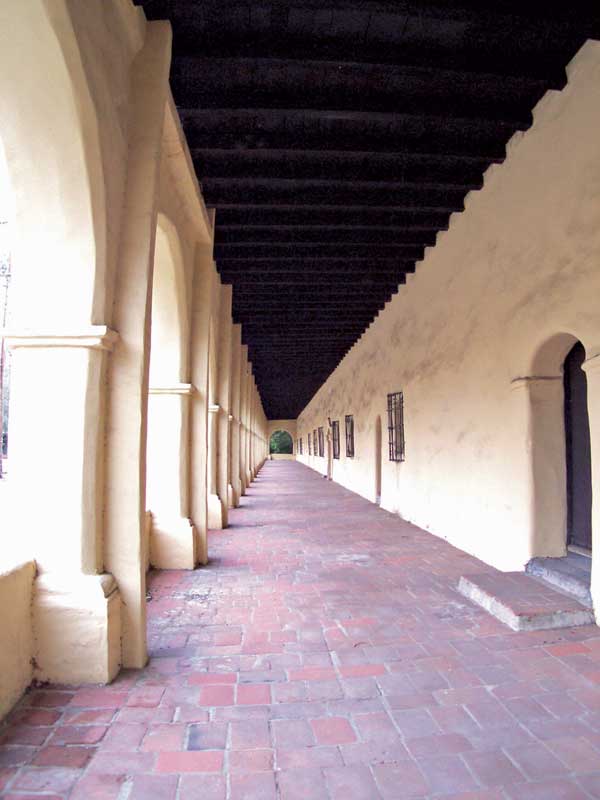 Products available for Mission restoration
The softness, breathability, and protective qualities of lime mortars, lime plasters, and lime washes makes them suited for restoration of Missions and other buildings of similar construction. There are several products that have established themselves in this niche.
Many U.S. companies import European seasoned-slaked lime mortars, plasters, and lime washes, produced in much the same way as those used by Vitruvius in Ancient Rome. Seasoned-slaked lime indicates the cooked limestone has been slaked with water and allowed to fully hydrate naturally over the course of months or years. Other dry, powdered products based on a more modern hydration process are also now available in the United States. These may be less expensive than seasoned-slaked lime products, but are more prone to popping and pitting due to incomplete hydration, and do not have the same working characteristics.
Some ready-to-use lime mortars are made more water-resistant through the addition of brick dust
(i.e. coccio pesto)—a technique consistent with that used for reservoirs and fountains in the California Missions, which also often employed hydraulic lime stucco (i.e. accelerated setting) made pink by the admixture of ground terra cotta tiles (another Vitruvian formula). Additionally, coccio pesto was used on architectural elements, such as the ladrillo colonnade columns at Mission Santa Ines.
Lime washes (or lime paints) are a suitable finish coat over a lime mortar, as they beautify, add color, and cross-link with the lime mortar to provide a water-shedding topcoat. The material gives a smooth coating which, after an initial wetting, encourages rainwater to run off. At the same time, the nature of this surface allows good, all-over evaporation to help the wall dry out. Lime wash is also unaffected by ultraviolet (UV) rays in sunlight that can damage synthetic paints. (See Stafford Holmes and Michael Wingate's Building with Lime [ITDG Publishing, 2002].) Lime paints are commonly applied by plasterers, who are often more familiar with lime products than painters.
Lime plasters can also be used as topcoats over lime mortars, when smooth textures and a more substantial color coat is desired. The plaster is extremely strong, but pliant—the result is reduced cracking versus portland cement as a building shifts or walls expand and contract in response to natural temperature or moisture fluctuations. Further, lime plaster and earthen materials expand and contract similarly. As a result, when lime plaster is applied on an earthen wall or plaster, it is less likely to crack or peel off. (See Cedar Rose Guelberth and Dan Chiras' The Natural Plaster Book [New Society Publishers, 2003].) Manufacturers should be consulted for detailed guide specifications, as lime cures more gradually than cement, and requires construction teams to schedule and protect the lime plaster work in different ways from what they may be used to.
For his La Casa de Bandini project in Old Town San Diego, Susko specified seasoned-slaked lime plaster and lime paint. Dating back to 1829, this adobe structure had been mistakenly repaired using portland cement plaster, had damage, and required a compatible finish plaster coat to allow the building to reach its full lifespan.
"The use of a product specifically formulated as a finish product will greatly aide in meeting the requirement of decorating the lime finish with lines to replicate stone," he explains. "Additionally, the use of lime paint with good abrasion resistance and documented vapor permeability will greatly help with long-term maintenance."
Lime products have recently captured an increasing share of the U.S. market for high-end, differentiated plasters in new construction. These products can crack less, breathe more, and give a more natural stone-like appearance than portland cement products. Lime plasters are especially popular with straw bale, rammed earth, and cob structures, as well as on new Italianate custom homes and resorts.
Conclusion
Restoration work can be especially rewarding—the chance to research, analyze, and repair a structure to its original function is both more challenging and different than an architect or specifier's normal work. When it comes to plaster restoration, it is critical to find an experienced contractor who understands the historical perspective of the project, and take an active role in selection of plaster products compatible with the structure, as this is vital to the longevity of the repair. (Places to search for specialized architects and contractors include www.preservationdirectory.com, www.preservationnation.org, www.histroricpreservation.com, and www.aia.org/hrc.)
Nick Brown, CEPE, is president of Vero Fine Italian Plaster Finishes and Merlex Stucco. Born in Sydney, Australia, he immigrated to the United States in 1979, and lives in Southern California, where stucco and plaster are predominant. Brown's 14 years in the building materials industry includes experience with stucco, Venetian plaster, gypsum wallboard, and joint treatment products. He also serves as president of the Stucco Manufacturers Association, and holds the Certified Energy Plan Examiner (CEPE) credential for performing energy efficiency calculations in the State of California. Brown holds a BA from Princeton University and an MBA from the Ross School of Business at the University of Michigan. He can be contacted at nick@merlex.com.