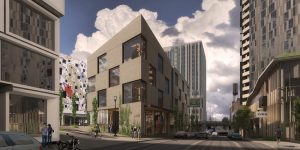 When the City of Portland, Oregon, built a new one-way street couplet reconnecting the roadway to a nearby street, a leftover 1858 m2 (20,000 sf) berm space was created. Utilizing that space, Skylab Architecture designed B76, a wedge-shaped building featuring a cross-laminated timber (CLT) structural system.
The structure was designed as a working-class building aimed at public transportation connectivity, pedestrian openness, and bicycle priority access. The ground floor will be activated by storefronts and a work space above.
The work space will be wrapped in brick masonry with the building acting as an anchor and a gateway to the eastside community. The development helps to strengthen the connection between the community and the westside downtown urban core.