Predictive data and the future of preconstruction planning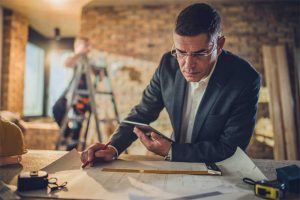 Quality predictive models are constantly monitored for degeneration, which is to be expected as the economic and market conditions change. Decisions can be made as to whether a model needs to be refit or rebuilt based on quarterly updates of external economic, construction-specific, and market condition indicator data. Additionally, special analyses and model checking can be performed as changes in market conditions are announced, such as tariffs imposed on steel and aluminum.
Where the traditional economic forecasting techniques are simply unable to predict cost volatility and sudden market changes, predictive cost data provides a more robust and accurate data-driven alternative.
One of the big challenges for design teams is creating a budget that is realistic and applicable to current and future stages of a project. On the other hand, construction teams often struggle to manage a budget presented by architecture or contractor teams. By using predictive data, preconstruction professionals can create budgets that consider all of the factors at play in a region, including local labor rates and material costs. This makes it easier to complete a project on time and within the planned budget.
Predictive cost data has been used to more accurately predict the cost of construction up to three years before the project breaks ground. The ability to have predictive data accounting for real market conditions (amount of construction versus labor availability) and commodity price impacts on material costs, is a critical insight in managing the budget from the design through construction. This also gives design professionals the power to instill confidence of their clients in their work. By using predictive data, projects are not only forecasted accurately, they are confidently approved and come to fruition sooner.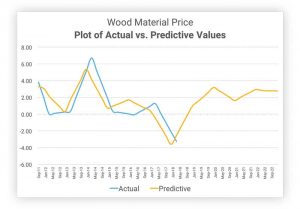 Take, for example, a fast-food restaurant planning to open 100 new stores over the next five years. Each store will be in a different location, and in time the costs of materials and labor will rise and fall in the various markets. Predictive data does more than give an estimate of the total cost or even scaling rate over time, it allows one to optimize the build schedule and determine when and where the next restaurant should be erected.
Looking forward
Conceptual square foot models are typically used in the capital planning phase and tend to fall within 20 percent of actual costs. When applying a predictive database at the material, labor, and equipment level and rolling up to these square foot models, back testing ended in cost deviations of less than three percent up to three years in advance. Back testing included running algorithms to actual data inputs from three years ago and then measuring the prediction against the actual data collected three years later on a rolling basis. This model building means owners, architects, engineers, and other construction professionals can confidently utilize predictive algorithms to determine accurate project costs years in advance.
Applying the same predictive data and algorithm to client-specific models and facilities results in accurate budgetary estimates at the capital planning stage. This accuracy allows construction projects to be completed within the estimated budget. Ultimately, the core value of using accurate predictive cost is the unprecedented ability afforded to construction professionals to understand future expenses of projects.
Sherman Wong serves as a senior account manager at Gordian. Previously, he worked as design build manager at the University of Hawaii. Wong also worked as a pre-construction manager and project engineer for Kiewit Building Group and Castle & Cooke Homes. He has a bachelor's degree in architecture from the University of Hawai'i at Mãnoa, and an MBA from Chaminade University of Honolulu. Wong can be reached at s.wong@gordian.com.