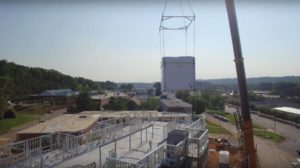 Methodist Homes of Alabama and Northwest Florida kicked off 2017 by renovating Fair Haven Retirement Community in Birmingham, Alabama. January's $42-million redevelopment project featured both new construction and improvements to existing structures, and relied on innovative construction methods to meet resident and code standards.
Three new buildings were added to the campus, contributing a total of 143 assisted living, long-term care, and short-term stay units in which seniors can reside, each featuring an individual kitchen, dining room, living room, and sleeping area. Additionally, enhancements such as cove lighting and temperature controls located within each room were added.
"We needed to bring speed to the project to drive financing cost down and create room in the budget for items important to meeting the owner's vision for these buildings," said Hunter Benton, project manager with Golden Construction, which served as the project's general contractor. (The project architect was Kansas-based Action Pact Design.)
In part, these goals of speed and cost-effectiveness were met by installing prefabricated bathrooms.
"Having the bathrooms prefabricated offsite gave us an opportunity to combat the increasing workload the market put on the labor resources in our area," said Benton.
Further, this strategy saved both costs and time, ultimately reducing the construction schedule by two months thanks to its amalgamation of the responsibilities of various trades (such as electrical, plumbing, and finishing). The units' easy maneuverability also allowed them to be installed more simply than traditional bathrooms.
"Prefabrication is tough, but so is building traditionally," Benton pointed out. "With prefab, when you figure it out, you give yourself an opportunity to succeed on a whole new level."
He added success with prefabrication relies on a clearly defined project scope that eliminates duplicate pricing and other contingencies.
The bathrooms were responsive to residents' mobility issues, featuring code-compliant roll-in showers. Golden Construction also worked with the bathrooms' manufacturer to ensure the installed floors surpassed the Americans with Disabilities Act (ADA) standards of performance.