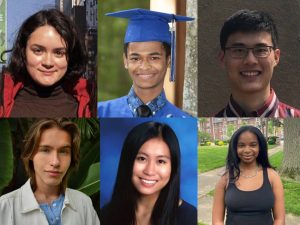 The Architects Foundation, the philanthropic partner of the American Institute of Architects (AIA), has selected the recipients for five of its scholarship programs that support future leaders of the profession in equity, diversity, global practice, and sustainability.
The Architects Foundation seeks to continue supporting the future of the architecture profession by recognizing and supporting scholars through an expanding scholarship and grant program offering.
2020 Diversity Advancement Scholarship
The Diversity Advancement Scholarship will go to six students entering architecture school. Each student will receive $4000 per year towards tuition for the next five years totaling $20,000 each. This year's recipients are:
2020 Payette Sho-Ping Chin Memorial Academic Scholarship
The 2020 Payette Sho-Ping Chin Memorial Academic Scholarship is awarded to Allexxus Farley-Thomas, a student at Cornell University. She will receive a $10,000 scholarship intended to support the education of women in architecture. She will also be mentored by an architect at Payette for the scholarship year. Farley-Thomas is the fifth recipient of the scholarship, which honors late architect Sho-Ping Chin, FAIA, a long-time principal at Payette and a healthcare practice leader who was instrumental in defining and elevating the national discourse for women in design.
2020 a/e ProNet David W. Lakamp AIA Scholarship
The 2020 a/e ProNet David W. Lakamp AIA Scholarship is going to Trey Hammond, University of Oklahoma, and Xinyuan Ma, Carnegie Mellon University. Each will receive $5000 to be used towards tuition for demonstrating a strong interest in practice and risk management. The scholarship honors David W. Lakamp, who was a founder of a/e ProNet and a trusted advisor to the profession of architecture.
2020 Yann Weymouth Graduate Scholarship
Michael Paraszczak, a student at Cornell University, wins the 2020 Yann Weymouth Graduate Scholarship. He will receive a $5000 scholarship toward tuition for demonstrating an exemplary work focus at design that includes sustainability, resilience, wellness, and beauty. The scholarship honors practicing architect Yann Weymouth, AIA, who will also mentor Paraszczak.
2020 McAslan Fellowship
The 2020 McAslan Fellowship will be going to Michael Lidwin (University of Tennessee) and Melissa Smith (University of Kansas). The scholarship supports research and travel experiences for two top graduating students to engage with U.K.-based firm John McAslan+Partners.