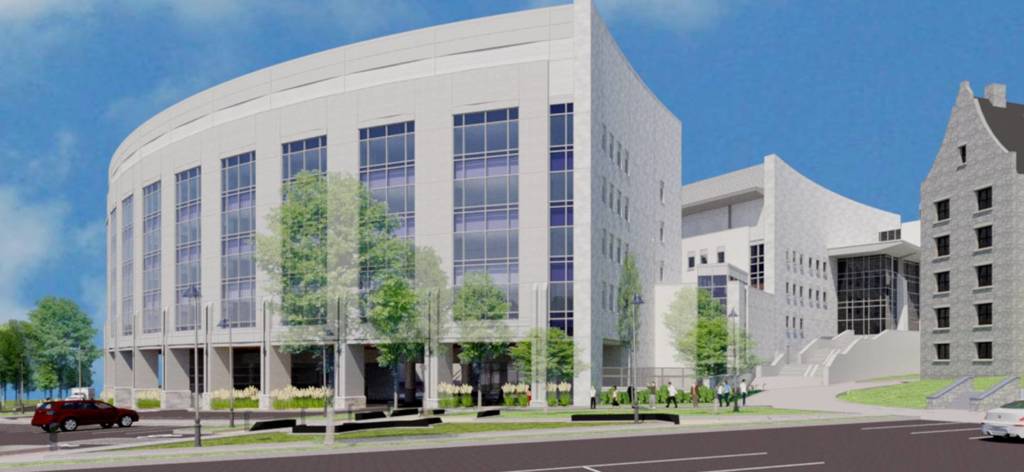 The University of Vermont (UVM) Medical Center in Burlington will be getting a new inpatient building as of summer 2019, thanks to work by architect E4H MorrisSwitzer Environments for Health, construction manager Whiting Turner Contracting Company (partnered with Neagley & Chase Construction Company), and architectural acoustics consulting firm Acentech.
E4H MorrisSwitzer has performed work for UVM on several previous occasions, designing projects such as:
the Vermont Children's Hospital inpatient unit;
the walk-in clinic at UVM's Fanny Allen campus; and
the center's new mother and baby unit (certified to Gold under the Leadership in Energy and Environmental Design [LEED] program).
Serving the state and the northern New York region, the Robert E. and Holly D. Miller Building will update the existing center's outmoded inpatient units (some of which are 50 to 70 years old) and improve its single-occupancy rate from 30 to 90 percent. The addition is designed for LEED certification, and will be located above the existing parking lot for the center's emergency department.
The Miller Building will hold four inpatient floors containing 32 private, modern single-occupancy rooms each. Privacy will be a major area of focus in this $187-million, 16,722-m2 (180,000-sf) project.
"Evidence shows that patient rooms designed with the needs of patients and families in mind result in better outcomes and a better experience overall," says Eileen Whalen, the center's president and chief operating officer. "The Miller Building will reflect our focus on providing high-quality care in an environment that is soothing, quiet, and private."
One important way of doing this is by prioritizing sound isolation and speech privacy. Given the potential for noise to disturb the patients, staff, and visitors of this sensitive environment, Acentech provided recommendations for improvement in the areas of:
room acoustics;
sound isolation;
mechanical system noise;
environmental noise; and
vibration control (specifically, floor and footfall-induced vibration management).
"Key concerns voiced by the Patient and Family Focus Group in the planning and design process included privacy and noise reduction," says project manager Thomas Morris, partner at E4H MorrisSwitzer. He goes on to say the consultancy "provided thoughtful options and recommendations for accomplishing these goals."