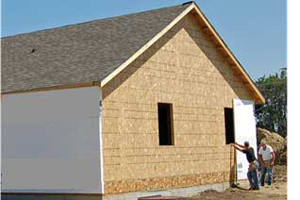 Understanding rainscreens
A rainscreen is an exterior wall system where the visible cladding acts as the primary moisture barrier and stands off from the second moisture resistant surface applied to the sheathing. This arrangement creates a capillary break and allows drainage, evaporation, and drying of moisture which penetrates the cladding to become trapped in the wall.
Rainscreens are typically recommended for areas that receive at least 1016 mm (40 in.) of rain per year, but they add value in all geographic areas by mitigating the risk of moisture intrusion by creating a high-performing exterior wall assembly.
Rainscreen walls offer two lines of defense against moisture penetration into the building envelope by minimizing moisture passage into the building envelope, and intercepting and dissipating the water behind the cladding screen. This is achieved through the interaction of four basic components, each designed to complement the functions of the others.
Exterior cladding
The outermost component of the rainscreen system is exterior cladding. In addition to providing the desired appearance, a building's cladding protects
the enclosed structure against the stresses of climate, directing rain downward and away from the underlying elements of the envelope. This component must endure the stress of wind and building movement derived from temperature and moisture changes without causing damage to the cladding. Depending on the material and construction details, moisture may pass through this layer. Another crucial consideration for cladding is combustion, so architects must carefully follow NFPA code requirements for each jurisdiction and building type.
Air gap
The next component is the air gap behind the exterior cladding. This gap, sometimes referred to as the channel or drainage cavity, must be ventilated at both the top and bottom. Its primary function is to provide a runoff for moisture passing through the cladding or is trapped within the interior wall or assembly. This is achieved with furring strips, drainage mats or weather-resistant barriers with integrated drainage technology. Typical assemblies require a minimum 9.7 mm (0.38 in.) cavity for efficient drainage.