Public-private partners to reactivate Boston's iconic Hurley Building
by arslan_ahmed | November 21, 2022 5:53 pm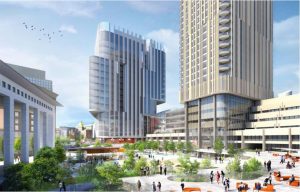 The Hurley Building, part of the Boston Government Services Center (BGSC), is to receive a transformation into a mixed-use development, to revive the unfinished and neglected brutalist structure and improve neighborhood connections in the 2.2-ha (5.5-acre) downtown Boston site.
The project is a public private partnership between The Commonwealth of Massachusetts' Division of Capital Asset Management and Maintenance (DCAMM), and the developer Leggat McCall Properties (LMP). The design for the redevelopment comes from the architecture firms NBBJ Design, and Audrey O'Hagan Architects. The design plan for the Hurley Building will preserve many of the building's most iconic features while transforming the interior to accommodate new state office space, incorporating a new life science building and a residential building, and increasing connections with the surrounding neighborhood. Another project partner, the preservation architect, Beyer Blinder Belle, will honor the mid-century architectural elements of the site while improving its outdated public interfaces.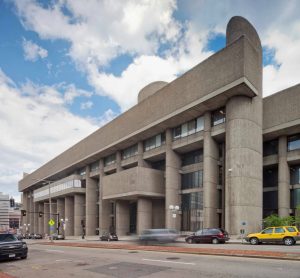 The improved site will include ground floor retail along Staniford Street, significant upgrades to the central plaza, and a new mid-block portal allowing for pedestrians and the public to access and pass through the block more easily. Landscape architecture firm Mikyoung Kim Design, will transform the central plaza into a 21st century civic space enhancing the city's walkability, promoting sustainability and environmental resilience, and encouraging both passive and active use.
LMP will deliver new state office space to the Commonwealth at no upfront cost to help meet the Baker-Polito Administration's Future of Work standards. The Hurley building currently faces approximately $225 million in deferred maintenance needs, including major energy efficiency upgrades. This project will leverage the value of the proposed life sciences building to offset the Commonwealth's costs, resulting in a space that is more energy efficient and better suited to modern work standards. The project will be LEED Gold certified and promote decarbonization through energy reduction and recovery.
"This redevelopment offers inspired design solutions and thoughtful adaptations to modernize a site with significant flaws and unlock its full potential as a vibrant destination at the heart of our city, state, and region," said DCAMM commissioner Carol Gladstone.
Endnotes:
[Image]: https://www.constructionspecifier.com/wp-content/uploads/2022/11/AA_BostonHurleyBuilding_1.jpg
[Image]: https://www.constructionspecifier.com/wp-content/uploads/2022/11/AA_BostonHurleyBuilding_2.jpg
Source URL: https://www.constructionspecifier.com/public-private-partners-to-reactivate-iconic-but-underutilized-boston-site/
---