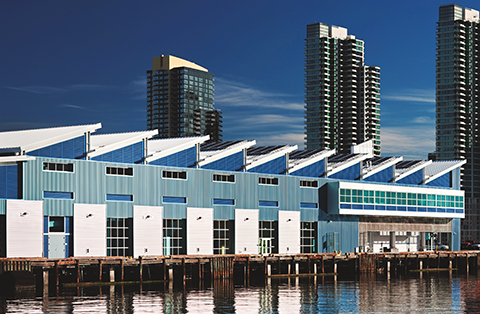 by Scott Moffatt
According to the U.S. Energy Information Administration (EIA), buildings account for almost 40 percent of energy consumed in the United States. With concerns over global warming and the associated impacts of energy consumption, energy efficiency has become a critical part of building design.
The U.S. Department of Energy (DOE) has a goal of achieving net-zero energy commercial buildings that will be marketable by 2025. Improving energy efficiency involves various approaches and design options, including:

building orientation and configuration for solar control;

increased wall and roof insulation;

air-sealing to reduce infiltration;

improved windows to optimize solar heat gain and visible light, while reducing air leakage and heat loss;

improved lighting system design;

daylighting controls and occupancy sensors;

reduced plug loads and controls to turn off equipment; and

improved HVAC system designs.
In addition to these strategies, flat, white roofs have become standard practice in many applications. These assemblies feature high-reflectance values to reduce heat gain from solar radiation falling on the roof, and are widely used, particularly in warmer climates and on warehouse and big-box buildings.
To increase the aesthetic options available to architects and building owners, coatings manufacturers have developed reflective metal coatings for steep- and low-sloped roofs in a wide range of colors. These coatings reflect solar energy as effectively (or nearly so) as flat white roofs.
These so-called 'cool' coatings, which can also be applied to exterior walls and window frames, have been available through composite panel manufacturers for years. However, the U.S. Green Building Council (USGBC) does not yet allocate Leadership in Energy and Environmental Design (LEED) points for such applications. The American Architectural Manufacturers Association (AAMA) has developed a voluntary solar-reflective specification, but the aluminum extrusion market has yet to convert to this energy-saving technology.
This article describes and examines the results of an independent energy modeling study that quantifies the potential energy savings associated with high-reflectance coatings not just on roofs, but also on underutilized applications such as wall panels and aluminum extrusion window frames on mid-rise commercial buildings.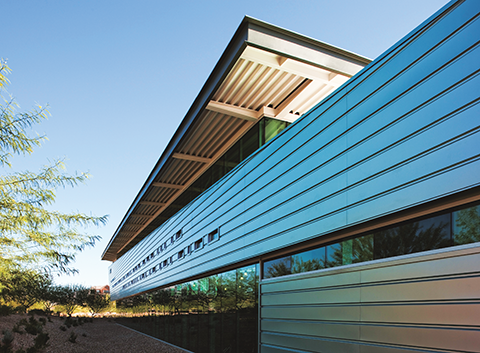 Study parameters
An independent energy and environmental analysis firm conducted a simulation analysis to evaluate the energy consumption effects of high-reflectance on a generic, eight-story office building using eQUEST/DOE 2.2 building energy modeling software.
The firm ran separate simulations for walls, window frames, and roofs on the generic building, incorporating metal coatings with solar reflectance values of 0.25, 0.35, 0.55, 0.65, and 0.70. The energy consumption for those models was compared to that for a baseline building with reflectance values of 0.05 on all three surface types—walls, window frames, and roofs.
To examine the impact of climate on the results, the simulations were also performed using weather data for 12 cities in a representative range of climates.