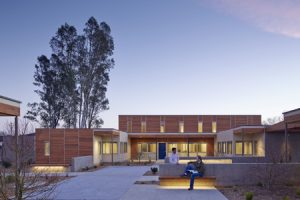 The magazine's series of sponsored e-books continues with a look at the role HVAC systems play in creating healthy indoor environments and reducing energy consumption in the building.
Hydronic radiant heating and cooling systems significantly reduce energy consumption in the built environment. Many of the world's most efficient commercial buildings rely on the coupling of radiant and forced air systems to achieve energy performance targets.
In-slab hydronic radiant assemblies, along with downsized forced-air systems, are gaining popularity as a means of optimizing thermal comfort while lowering energy use. Typically designed in conjunction, radiant cooling systems circulate colder water through the same network of pipes where warmer water circulates during the heating season. This network of pipes can turn the floors, walls, and ceilings of a conditioned space into cooled surfaces that evenly absorb heat energy.
Radiant systems are ideally suited to a broad range of commercial applications and achieve best results when combined with other energy-efficient solutions in tight building structures.
An article in our newest sponsored e-book examines the evolution of radiant systems. It appears along with a trio of other articles from the pages of The Construction Specifier in "Ensuring Healthy Buildings," a free, downloadable resource. To get your copy in either pdf or digital edition, visit www.constructionspecifier.com/ebook/rehau-ensuring-healthy-buildings-e-book.