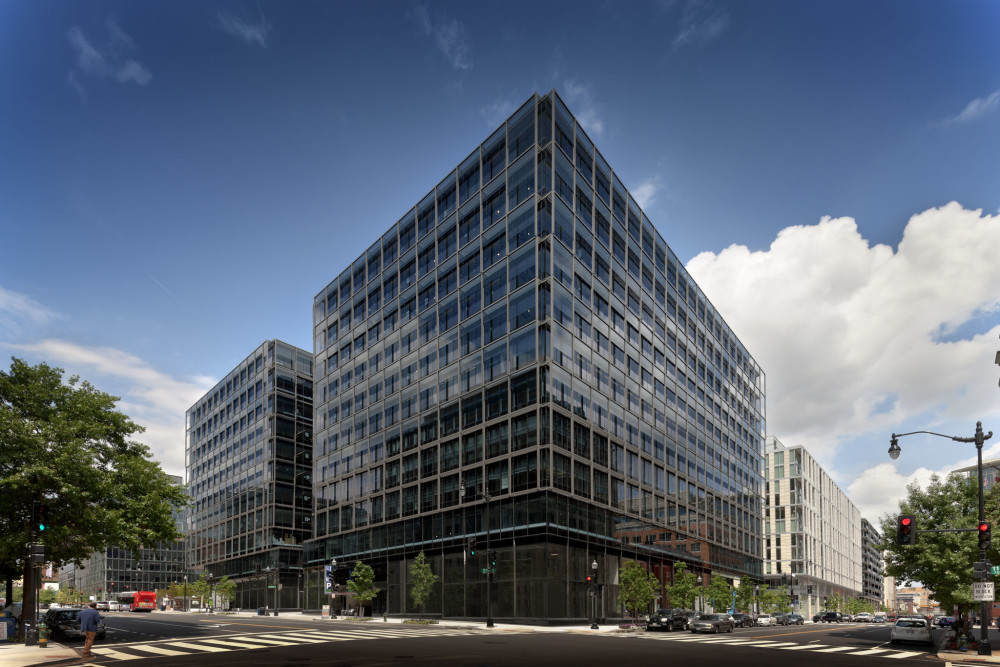 Occupants of two office towers in the heart of CityCenterDC in the nation's capital will enjoy a comfortable work environment thanks to its coating systems.
Located on a ceremonial stretch of Washington D.C.'s New York Avenue between the new D.C. Convention Center and the U.S. Treasury and White House, the towers are part of a 4-ha (10-acre) mixed-use space that was once the site of the former Washington Convention Center.
The $1-billion campus blends 232,258 m2 (2.5 million sf) of shops, restaurants, apartments, condominiums, offices, a hotel, and public spaces. It is one of the largest urban infill projects undertaken by the city.
For the two office towers, proprietary coating systems were selected to meet the project's aesthetic, performance, and sustainability goals.
At 11-stories each and with glass pedestrian bridges linking them, the towers provide 26,013 m2 (280,000 sf) of space with an unobstructed, 360-degree view from the inside of every floor.
In addition to aluminum panels and sun shades, the buildings' sleek metallic and glass exterior features an aluminum-framed curtain wall and storefront, which were finished with proprietary polyvinylidene fluoride (PVDF) resin-based coatings.
The design team chose the coatings—which meet American Architectural Manufacturers Association (AAMA) 2605, Voluntary Specification for Performance Requirements and Test Procedures for Superior Performing Organic Coatings on Aluminum Extrusions and Panels—to help provide resistance to ultraviolet (UV) rays, chemical degradation, abrasions, and humidity.
With its focus on sustainable design, CityCenterDC's entire development was accepted into the U.S. Green Building Council's (USGBC's) pilot program for Leadership in Energy and Environmental Design (LEED) Neighborhood Development (ND) and received Gold certification. The project's office buildings also earned pre-certification at the Gold level for LEED Core and Shell (CS). In addition, the residential buildings received Silver certification for LEED New Construction (NC).