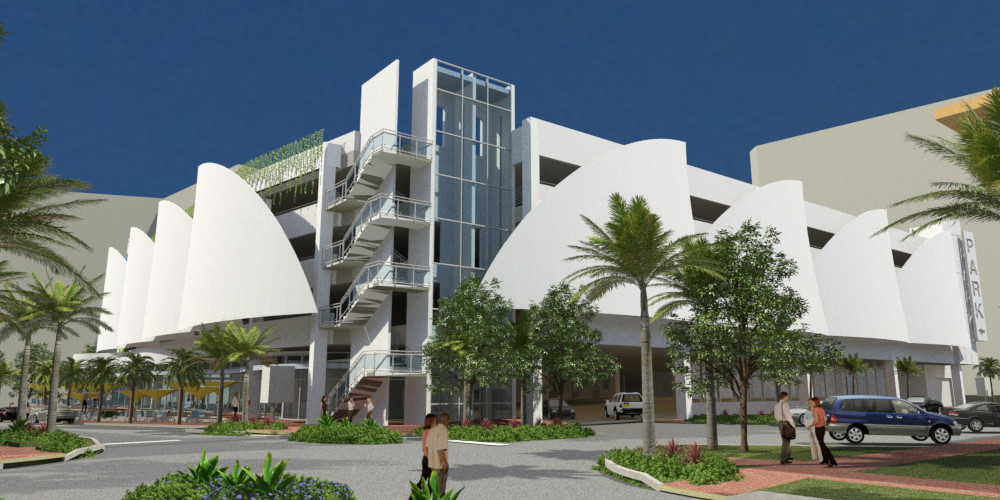 Sixteen sail-shape canopies will grace the façade of Pompano Beach, Florida's new parking garage, helping to enhance the Atlantic coastal city's skyline.
The $19-million parking garage near Pompano Fishing Pier will provide 609 parking spaces, and is part of the municipality's plan to develop the area into a retail center featuring numerous restaurants and shops. The canopies comprise polytetrafluoroethylene (PTFE) membranes.
The idea for the custom-designed tensile sails was inspired by the nautical ambiance of Pompano Beach, which is often called the 'Heart of the Gold Coast.' The goal was to create something special to make the parking garage attractive and unique.
In addition to the sail-shape canopies, the manufacturer will also provide 15 identical rooftop fabric membrane units. The project will incorporate more than 2510 m2 (27,000 sf) of PTFE membranes, which can be extremely durable and weather-resistant. This material can be installed in climates ranging from the frigid arctic to the scorching desert heat with a product life in some cases exceeding 30 years.
The lightweight fabric structures are not only visually appealing, but also environmentally sensitive and economically competitive. PTFE fiberglass is Energy Star- and Cool Roof Rating Council- (CRRC) certified. The membranes can reflect as much as 73 percent of the sun's energy and certain grades of PTFE fiberglass can absorb 14 percent of the sun's energy, while allowing 13 percent of natural daylight and seven percent of re-radiated energy (solar heat) to transmit through.
In addition to PTFE, the parking garage's beach-side location requires corrosive-resistant, durable concrete, stainless steel hardware, and high-quality glass.