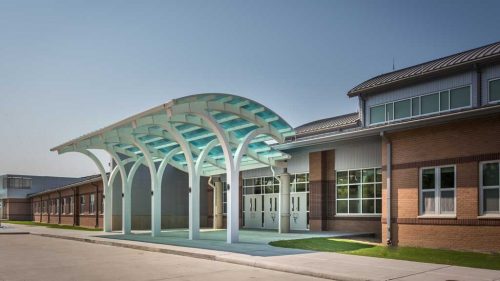 by John Cicciarelli
Monumental devastation from 2017's hurricanes Irving, Maria, and Jose has caused architects and building professionals to look back at lessons learned from Hurricane Katrina, which devastated New Orleans in August 2005. With sustained winds of 161 to 225 km/h (100 to 140 mph) and storm surges as high as 9 m (30 ft), about 80 percent of the city was underwater. The storm heavily damaged or destroyed more than 120 schools in the New Orleans school district alone. Remarkably, 12 years later, the region is still rebuilding as student populations in many districts continue to increase.
Peter Fortier, AIA, principal architect at Lachin Architects, is a proponent of masonry for the rebuilding efforts because he witnessed its ability to withstand flooding. Masonry is a highly durable form of construction that employs materials with great compressive strength, capable of enduring moisture and wind. As such, masonry structures historically fare much better in hurricanes than other building types.
"When we first surveyed the post-Katrina damage, we took note of construction materials that survived. Glazed concrete block and glazed tile best weathered the inundation, and could be cleaned and reused," Fortier says.
Conscious regional planning
When designing Arlene Meraux Elementary School in St. Bernard Parish southeast of New Orleans, Fortier was met with a tight construction schedule and a site facing the potential for future floods. He chose glazed concrete masonry units (CMUs) to help meet the district's immediate and long-term needs.
For the school, Fortier designed all interior walls with glazed concrete units to a minimum of 3 m (10 ft) high. He also raised all critical mechanical and electrical systems to the school's second level, where they would be out of harm's way. As such, the building not only met but exceeded the Federal Emergency Management Agency's (FEMA's) criteria for how high to raise a building's slab, a benchmark for qualifying for flood insurance.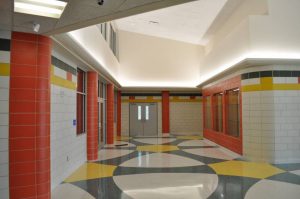 "With the glazed masonry wall, elevated slab, and raised mechanical systems, we can weather another Katrina," explains Fortier. "Once waters recede, we will be able to hose everything down and have everything back in working condition quickly."
New Orleans-based Rush Masonry worked closely with Fortier on this project. The firm has worked on approximately 70 percent of the rebuilding projects in the New Orleans metro area. According to Randy Rush, owner of Rush Masonry, the region is seeing a lot more glazed and ground face CMU and interior CMU partitions in construction projects.
Since flooding is only one source of the damage inflicted by hurricanes, it is also necessary to design buildings to withstand high winds. A storm's winds can propel objects through the structure, injuring the people inside, and can tear a building apart through uplift.
"Wind is not an issue when you build with masonry due to the stringent load requirements established by the International Building Code (IBC) for masonry, especially when you do steel-reinforced construction," says Fortier. "Also, when you use a glazed masonry block, it not only stands up to natural forces, but student wear and tear as well."
For aesthetics and practicality, Fortier established a multicolor palette, with a separate color theme created for each school wing.
"Color-coding is a better way to help students identify the different areas of the school than signage, which is another benefit of glazed masonry," he explains.
Additionally, with glazed masonry, there are no problems of staining the CMU, since the color is glazed onto the material.
Arlene Meraux Elementary opened its doors to nearly 550 students this past August, in time for the 2017-2018 school year. The 10,684-m2 (115,000-sf) facility features two courtyards, a large playground, an outdoor classroom, library, gym, music, and art classrooms. The school sits on a 6 ha (14.6 acre) plot of land donated by the Arlene and Joseph Meraux Charitable Foundation.
Although a typical schedule for a school of this size would be 15 months, this project was completed in 12 months without incurring serious overages or overtime charges. Employing glazed masonry was one of the value-engineering methods used to meet the stringent timeline. The installation did not require painting, thereby saving significant time and labor.
Speeding up construction
Another project where masonry was used successfully is the South Plaquemines Elementary School in Port Sulphur, Louisiana. Designed by Verges Rome Architects, construction on the project was fast-tracked so the school, which had a large student population, could open for the 2014-2015 school year. The $30.9-million project was funded by FEMA and designed to comply with the agency's strict mitigation requirements.
Serving 870 students in pre-kindergarten (pre-K) through sixth grade, the 9760-m2 (105,054-sf), two-level structure was raised 5.5 m (18 ft) above grade to mitigate future flooding from a surge of the Gulf of Mexico. The building's ground level comprises a covered outdoor play and parking area, rather than occupied areas.
"We wanted the bottom floor to be a wash-out, so we used masonry at least from ground level up to the first floor," explains Steve Rome, AIA, principal partner at Verges Rome. "We then used masonry veneer and other waterproof or water-resistant materials on the face."
The design separated public spaces from offices and classroom for security and convenience. On one side of the school offers visitor access for events in the gym, library, and media center. Located on the opposite side of the public access is the bus-loading zone and entry to the school's second floor, via stairs or ramp. Students in pre-K through second grade take classes on the second level, while those in grades three through six attend class on the third level. Stairwells are strategically placed to direct student traffic flow away from classrooms for minimal noise infiltration.
Specifiers used architectural CMUs for the school's interior.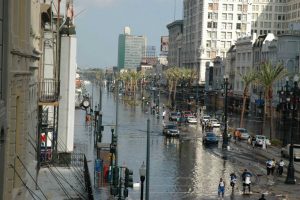 "Masonry is just a good material to use where there's the potential for water," says Rome. "Most masonry structures are going to survive a flood. They may need some cleaning and finishing touches, but still won't constitute structural damage. Masonry is a good lifecycle and aesthetic material for buildings."
Rome adds, "We learned many lessons after Katrina about the resistance of water and wind. The code in New Orleans now balances the potential for disaster with the reality of the construction industry."
According to the Association of State Floodplain Managers, prior to Hurricane Katrina, Louisiana did not have statewide building codes for nonstate-owned buildings. After the storm hit, Louisiana passed a law requiring mandatory adoption and enforcement of building codes. Louisiana now enforces the 2012 International Residential Code (IRC). Additionally, the American Society of Civil Engineers (ASCE) 24-14, Flood-resistant Design and Construction, requires essential facilities (Category IV) be elevated or protected to the base flood elevation (BFE) plus 0.6 m (2 ft) or the 500-year flood elevation—whichever is higher.
In terms of materials, ASCE 24-14 specifies flood damage-resistant materials must be used below specified elevations; metal connectors and fasteners exposed to salt water, salt spray, or other corrosive agents must be stainless steel or equivalent corrosion-resistant material, or hot-dipped galvanized after fabrication.
In storm-prone areas such as New Orleans, a building's durability and resilience are often as important—or more so—than its aesthetics. The use of glazed CMU enables designers to be creative and inspiring in their designs while protecting clients' long-term investment. Projects in New Orleans may inspire solutions for the daunting rebuilding efforts ahead in Florida, Texas, and Puerto Rico.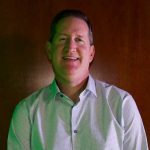 John Cicciarelli is director of structural masonry sales for Echelon, the consolidated portfolio of masonry products by Oldcastle Architectural. In his role, Cicciarelli oversees sales development for 13 individual companies covering the United States and parts of Canada. He can be reached at John.Cicciarelli@oldcastle.com.