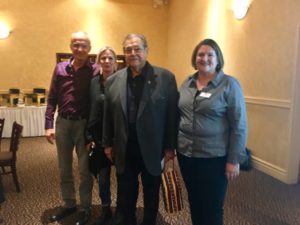 Architect Dennis Kobza was recognized at the Santa Clara Valley Chapter of CSI's monthly meeting earlier this month. A total of 29 attendees celebrated Kobza for his 50 years of membership with CSI and the Santa Clara Valley Chapter in particular. Among these were his daughter, Diana Desbard, and her husband Michel.
As part of the presentation, Chapter president Terri Sudbrook read Kobza's bio and resume, noting achievements such as the opening of his office in Mountain View, California, in 1966. His architectural license number and CSI membership number were also shared, to help illustrate his lengthy career. For instance, Kobza's license number runs only four digits long, while most current license numbers have five digits, and his membership number, 767737, stands in contrast to the most recent membership number, 2028449.
The presentation closed with thanks and gifts of appreciation from the chapter, followed by a standing ovation. It is certain Kobza has left his architectural mark on the Santa Clara Valley Chapter.