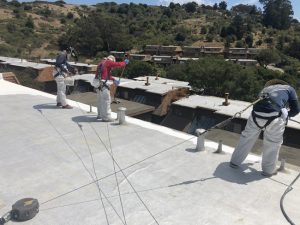 The Spray Polyurethane Foam Alliance (SPFA) has announced the winners of its 15th Annual SPFA National Industry Excellence Awards, highlighting some of the most noteworthy 2019 projects in spray polyurethane foam insulation, roofing, and specialty applications, as well as in elastomeric coatings. Winning projects were announced at the Sprayfoam Show 2020 Convention & Expo in Pasadena, California.
"The nominations for our 15th annual awards program comprised an incredible group of projects in our field and the competition to win this year proved stiff," said Denny Vandewater, chair of the 2020 SPFA awards program. "All entries impressed the judges and the winners selected ultimately represent the best in a bunch of standout projects."
The awards recognize projects representing best practices in six core categories. This year's recipients include:
Commercial Wall Foam: Elite Insulation & PolyPro LLC, MillerCoors Yeast Propagation Lab (Elkton, Virginia);
Residential Wall Foam: Callahan Foam Insulation LLC, Harris Residence (Nettleton, Mississippi);
SPF Roof Under 40,000 Square Feet: Wedge Roofing, Eichler Residence (San Rafael, California);
SPF Roof Over 40,000 Square Feet: Central Coating Company, Inc., Historic Pier 70 project, (San Francisco, California);
Specialty Applications: RPC Industries, Inc., U.S. Navy Aircraft Carrier Catapult Covers, (Newport News, Virginia); and
Elastomeric Roof Coatings: Wedge Roofing, Creekside Homes (Mill Valley, California).
To learn more, click here.