Recognizing innovative use of Italian tiles
by nithya_caleb | August 20, 2018 2:16 pm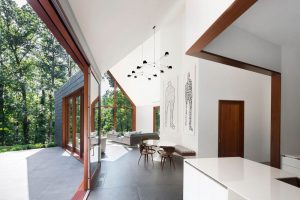 The 25th anniversary of the Ceramics of Italy Tile Competition[2], sponsored by Confindustria Ceramica[3] and the Italian Trade Agency[4], attracted innovative projects from designers and architects throughout North America. Four winners and three honorable mentions were selected across four categories: residential, commercial, institutional, and student.
This year's winning projects include an apartment building with self-cleaning and air-purifying tiles designed by Studio Libeskind[5], a contemporary home that pays homage to its fire-stricken past by Ziger/Snead[6], and an engineering school with a focus on sustainable design by ZAS Architects + Interiors[7].
The winner in the commercial category, the Sapphire project used three-dimensional, geometric, patterned stoneware tiles to cover 2600 m2 (27,986 sf) of the building's exterior. The tiles are technologically advanced to self-clean and aid in air purification.
The Venetian Isle Clubhouse, a multifamily community clubhouse in Windermere, Florida, by Kay Green Design[8] received an honorable mention in the commercial category.
The Slate House in Baltimore, Maryland, was the winner in the residential category. The 650-m2 (7000-sf) building was destroyed by a house fire but the design team set out to reconnect the site to the existing contextual environment. The project was chosen as it seamlessly transitions from the inside to the outside by using the same product.
The Norwich project, a contemporary family home in West Hollywood, California, received an honorable mention in the residential category. With lots of windows allowing for natural light throughout the space, light-colored neutral tiles were used to reflect the light and translate the openness of the interior across the flooring.
The Bergeron Centre for Engineering Excellence[9] at York University[10], Toronto, Ontario, was the winner in the institutional category. The Holy Name of Jesus Cathedral project in Raleigh, North Carolina, received an honorable mention in the institutional category.
Interior architecture students Raquel Raney and Brennan Broome from Florida International University[11] (FIU) were selected in the student category for their sophisticated renderings of a multi-use complex.
Endnotes:
[Image]: https://www.constructionspecifier.com/wp-content/uploads/2018/08/tile.jpg
Ceramics of Italy Tile Competition: http://www.tilecompetition.com/
Confindustria Ceramica: http://www.confindustriaceramica.it/site/home.html
Italian Trade Agency: https://www.ice.it/en/
Studio Libeskind: https://libeskind.com/
Ziger/Snead: http://www.zigersnead.com/
ZAS Architects + Interiors: https://www.zasa.com/
Kay Green Design: https://kaygreendesign.com/
Bergeron Centre for Engineering Excellence: http://thebergeroncentre.ca/
York University: https://www.yorku.ca/index.html
Florida International University: https://www.fiu.edu/
Source URL: https://www.constructionspecifier.com/recognizing-innovative-use-of-italian-tiles/
---