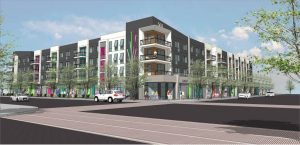 A new redevelopment slated for downtown Pomona, California, Prisma Artist's Lofts, is one of the first developments taking shape as part of an urban renewal plan for the city.
Adopted in March 2014, the Pomona Corridors Specific Plan aims to enhance the vitality of the region, particularly along Mission Blvd., Garey Ave., Holt Ave., and Foothill Blvd. SVA's schematic design for Prisma Artist's Lofts reflects the values of the City and stakeholders as a key element in Pomona's renewal.
Prisma Artist's Lofts consists of 75 units, including 14 live/work units with ground level storefronts. Located on 0.587 ha (1.45 acres), the four-story community will offer subsidized, affordable apartment homes in one, two, and three-bedroom designs. The community will also include a lobby, leasing office, community room, and amenity courtyard with an outdoor BBQ counter, dining tables, landscaping, and children's play equipment. The contemporary, urban design features accent colors and geometrical shapes, providing a canvas to the community rich with artistic heritage. Exterior mural boards will serve as a blank palette for artists in live/work units to personalize.