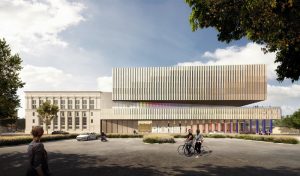 Team Pioneros will redevelop Chicago's landmark Pioneer Bank Building in Humboldt Park.
Led by JGMA and Park Row Development with All Construction Group, the team will rehabilitate the vacant landmark bank building and parking lot with affordable housing, an entrepreneurial incubator space, a Latino cultural center, and an office space.
The 0.304 ha (0.75 acre) parking lot north of the bank is planned to be redeveloped with a nine-story, 100 percent affordable, 75-unit building, as well as offices for Humboldt Park Family Health and a potential library branch.
JGMA will also relocate their River North office headquarters to the development to become the anchor tenant.
"The Team Pioneros project in Humboldt Park is not only pioneering for Chicago, but it is pioneering for an entire industry, as 100 percent of our teams consist of Latino- and Latina-owned firms in development, construction, design, and engineering—all coming together to work on a transformational community project," said Juan Gabriel Moreno, president of JGMA.
Principal of Park Row Development, Luis Puig, added, "Together, we are not new to the Humboldt Park Community. This team has worked for decades on over 30 projects for Chicago's Latino community, reinforcing our lifelong commitment to the city."